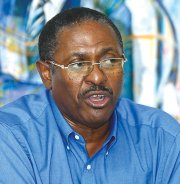 PLP CHAIRMAN Bradley Roberts criticised Dr Hubert Minnis yesterday, accusing him of "senseless rambling" after the FNM leader claimed the government is unable to keep Bahamians safe.
Mr Roberts claimed Dr Minnis has "nothing constructive to say" about national issues and recommended he "keep quiet".
Last week, Dr Minnis took the government to task over the fact that a fourth prisoner has escaped from Princess Margaret Hospital on the PLP's watch.
Demanding a full investigation into the escapes, Dr Minnis said: "The PLP government said they were ready on day one to protect Bahamians and to address the crime crisis in our communities, but it is clear to all that the only thing the PLP is concerned about is protecting themselves.
"The FNM calls for the immediate resignation of (National Security) Ministers BJ Nottage and Keith Bell, who have shown that they are clueless in performing a basic duty of the state. It is absolutely essential that all criminals are properly guarded and secured at all times."
In response, Mr Robert said Dr Minnis should explain why he did not call for the resignation of his Cabinet colleague, former National Security Minister Tommy Turnquest, when murders doubled on the FNM's watch.
He said: "Almost 500 lives were lost during the FNM's last term in office and well over 300 were out on bail. Further, violence in our schools escalated to riots and students were killed after the school-based policing programme was cancelled from the public schools; all of this carnage and not a peep from Dr Minnis.
"Dr Minnis' memory is quite short as he has clearly forgotten that it was also under the watch of the FNM when an attending nurse was gunned down at the Princess Margaret Hospital during a retaliatory shooting of a prisoner in police custody.
"This heinous act of violence was in addition to numerous escapes by prisoners while in police custody. There was no hue, no cry, no outrage and certainly no call for accountability and resignations from Dr Hubert Minnis. His silence was deafening."
Mr Roberts called on the opposition leader to stop delivering "pious lectures" and shedding "crocodilian tears".
He said: "Nobody is fooled by your poorly contrived smoke screen designed to hide your deliberate political posturing and bluster."