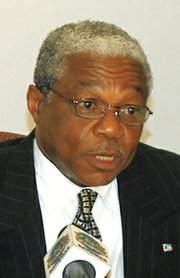 By KHRISNA VIRGIL
kvirgil@tribunemedia.net
NATIONAL Security Minister Dr Bernard Nottage said authorities have already started to see the positive effects of Urban Renewal 2.0 in many inner city communities.
Dr Nottage gave the update following the opening ceremony of the RBPF's 19th annual summer youth programme.
Speaking specifically about the Bain and Grants Town constituency, which he represents as a Member of Parliament, Dr Nottage said the initiative is already making a significant impact on violent crime.
He said the evidence is there in the police crime reports sent to the media every day.
"If you notice from the police crime reports, especially over the past two weeks, there has been more mention of the discovery of weapons and ammunition. This is because we have people coming forward and telling authorities which area and in what places certain kinds of behaviours occur," he said.
Many persons, Dr Nottage said, are growing accustomed to an active police presence in their communities.
Urban Renewal 2.0 was one of the PLP's major campaign promises in the lead-up to the 2012 general elections.
Although some uneasiness was expressed at the launch of the programme, many residents in various communities have expressed high hopes for its success.
Two weeks ago, Inspector Rolle, head of the Urban Renewal project for Bain and Grants Town, said his team aimed to foster good relationships with residents.
"It's all about crime prevention," he said. "We are looking at crime from the perspective of the environment and we have concluded that in addition to fixing dilapidated buildings and removing derelict vehicles, we have to do our best to provide persons within the community with jobs."
Asked about the initiative, one resident, Tamika Roberts, expressed her support.
"It's a good thing," she said. "The police presence is a deterrent to crime in inner communities. When the police is around, criminals refuse to commit crime."