By CHESTER ROBARDS
Tribune Staff Reporter
crobards@tribunemedia.net
WHEN the House of Assembly reconvenes, the Progressive Liberal Party will have made significant headway in fulfilling what it promised for the first 100 days following the election, PLP chairman Bradley Roberts said yesterday.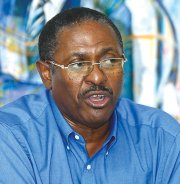 While he could not give specific details on which projects had come to fruition so far, he praised the efforts of the Christie administration, saying it had lived up to its promise of launching several key initiatives.
Day one of the first 100 days was marked by the government's first Cabinet meeting. The Tribune has tracked its progress in five of 14 initiatives pledged to be enacted in the first 100 days.
As of day 56 (today) since that first meeting it has launched its Urban Renewal 2.0 programme, created a ministry specifically for Grand Bahama, re-established the ministry of Financial Service and Investments, reduced the level of stamp tax on real estate and reintroduced a ceiling on the maximum level of real property taxes payable on a residence.
The much anticipated and criticised mortgage relief plan continues to be discussed, but is not yet instituted.
When the house reconvenes, the public could learn about what gains the government has made in eight other programmes, according to Mr Roberts, including increased investments in education and training, heightened border security, a re-focused Bahamas Development Bank,  an Employee Pension Fund Protection Act, National Health Insurance, a plan to lower electricity costs, a 40th Anniversary of Independence National Congress, and details of a referendum on a national lottery and gambling in the Bahamas.
Opposition leader Dr Hubert Minnis has constantly criticised the Christie government for not moving more swiftly to enact its campaign promises, much of which are listed in its 100 day plan.
The Christie administration has also been heavily criticised by the opposition for not having yet filled key chairmanship positions for the Broadcasting Corporation of the Bahamas and the Water and Sewerage Corporation.
Mr Roberts said he was confident that the public would be surprised by what gains the Christie government had already made as it strode past the mid-point of its first 100 days as the government of the Bahamas.