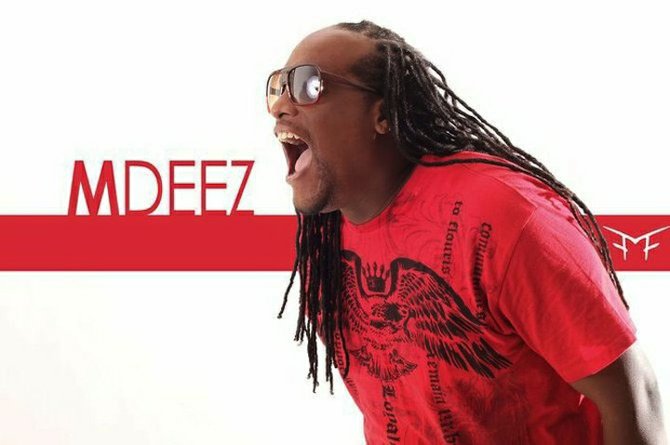 By FARAH
Tribune Features Writer
jgibson@tribunemedia.net
THOUGH it has been a difficult undertaking, Bahamian rapper Mdeez's is putting the finishing touches on the music video for his latest single Summer Bubble.
Over the past few weeks Mdeez has directed his attention to ensuring that the video for Summer Bubble is of quality. He said there have been a few bumps in regards to the video's production, but reassured fans they will be pleased with the final product.
Portions of the video were shot in Nassau and Florida. Mdeez also used Soso Man's birthday bas,h which was held at Foxies Lounge a few weeks ago, to shoot scenes for the video.
The video for Summer Bubble coincides perfectly with the song, which captures the fun spirit party goers are accustomed to during the summer months, the artist said.
"The video is just a fun video. It is not scripted or anything like. I have done a some green screening at D-Mac's studio so they will be able to put me against the back drop of anything. The video will be filled with lots of colour," he said.
Several Bahamian artists make appearances in the video. "We are just trying to show unity among Bahamian artists in the video. I am a rapper but there are artists like D-Mac, Daddy Whites, Sammi Starr, and Sosa Man who perform different music genres. We want to show oneness," he told In Ya Ear.
Mdeez expects the video to be officially released at the end of the month.
Summer Bubble was released earl June. It is the first dancehall song under  Mdeez' belt.
"This song is special to me because I have not done dancehall in a while. It is also different for my fans as well. They get to see the party side to me."
"I just want people to have fun, as with all my music. I want them to enjoy my craft as I put hard work into each piece I put out," Mdeez told In Ya Ear.
Mdeez has a full schedule ahead. His focus for the remainder of the year is to release a number of hits. "I am working on several collaborations with a few big names. I do not want to put everything out there just yet. I will also be working with a number of the local artists as well," he said.
Collaborations will also come in the form of ghost writing. This is a new venture Mdeez is excited to delve into.
"If you need a hit get at me. Just make sure your money right," Mdeez told In Ya Ear.
"Fans can expect me to continue put out great music and continue to take the Bahamas to the world. I just want them to know when they hear the name Mdeez they can be sure that I will represent them well. They will feel proud to say that I am a Bahamian," he said.