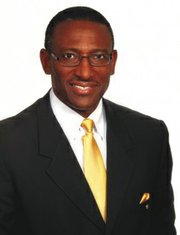 By PAUL G TURNQUEST
Chief Reporter
pturnquest@tribunemedia.net
WITH excess produce shipped in from the Family Islands being allowed to sit and spoil at the Produce Exchange, the Ministry of Agriculture said it is investigating the possibility of installing a canning facility at the Potter's Cay dock.
This facility, Minister V Alfred Gray said, would for example ensure that whatever tomatoes or oranges are not sold by the Exchange can be canned and sold as tomato paste and orange juice.
"I have been told that we can set up a small cannery for not too great a sum. And as soon as I am able to verify that, I will seek my colleagues' approval to set up a cannery, to be operated hopefully by some small contractor, give somebody the job to run because we don't want to get in the business of competing with people in our country. That is not the government's role. We facilitate private entreprenuership and if we were able to access a small cannery we will certainly give it to some private persons with interest to operate."
Currently, the Ministry of Agriculture is only allowed to purchase some $9,000 worth of produce from any one individual farmer. Often, he said, the Ministry finds itself flooded with one crop being grown on various islands being shipped into the capital. The resulting "glut" in excess produce, Mr Gray said, remains a problem for his ministry.
"You know why the glut is normally? Because people are allowed to import at the same time that people are producing. I am going to be radical in my thinking. When we have locally produced produce, to the extent that they are able to supply the market the government has to take a very firm stance that we will not allow imports and if they are allowed it will be so high in duty that it will discourage them from importing. See because it is foolish to me as Minister to tell the farmers to go ahead and farm, we want you to help us to feed our country, and when they do so we allow them to have a problem in selling what they produce because we are allowing imports to kill their business. I don't know that the two can co-exist. That is perhaps a radical thought but it is something I am prepared to seek permission to do. If we've got to stop the import of onions for three months I am prepared to get that permission from the government," Mr Gray said.
The minister also vowed that under his watch things will not be "business as usual" at the Ministry of Agriculture.
"I have just yesterday put in at least 10 different units, a dog unit, a licence unit, a poultry unit – in other words it is going to be a one-stop shop. We are not going to be all over the place trying to find John or Mary, In the next two weeks we are going to publicize the changes which we have agreed to make under my directions, and I can assure you it will not be business as usual in two weeks time, as far as the administration of my Ministry is concerned.
"I get too many complaints about things not moving. I mean you make an application for a licence today and you wait six weeks to get an answer! We are going to have a 24-hour roll over. In two days if all your paperwork is in and you have all the requirements met, licence granted. Or at the very least give the people an answer, yes, or no," he said.