By LAMECH JOHNSON
Tribune Staff Reporter
ljohnson@tribunemedia.net
AN American widow recently acquitted of her Bahamian husband's murder is seeking to remain in the Bahamas instead of being deported back to her home city of Boston, Massachusetts.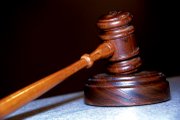 Jessie Williams, who sobbed after a 12-woman jury unanimously acquitted her of the July 31, 2010 murder of Sylvanus Williams, had her attorney put in a motion to the registrar to suspend her deportation.
Defending attorney, Godfrey Pinder, following last Wednesday's acquittal, explained why he filed the motion.
"She has two children who are Bahamian, with her deceased husband of whom she's the widow and she wants to remain in the Bahamas. She's an orphan originally. She knows nobody except our Bahamian people and I'm sure they'd want her to be here. Her children want her to be here. And I hope she's happy while she's here."
Mrs Williams,  a 45-year-old Nassau Village resident, was charged with the murder of her 45-year-old husband, who died in a vacant parking lot between the Green Parrot Bar and the Bahamas Air Sea Rescue Association (BASRA) headquarters on East Bay Street.
At the opening of the trial, the court heard that the victim arrived at about 9pm to report for his shift as a security guard at the US-based firm American Bridge, but was stabbed by a woman following an argument. He died at the scene.
During the trial, two witnesses, her godchild, and a woman in the parking lot who watched the ordeal unfold, testified that the deceased was stabbed after Mrs Williams escaped his choke hold on her, got out of the Chevy Blazer jeep and stabbed him.
Mrs Williams took the stand after the prosecution closed its case and maintained that in stabbing her husband she was only trying to stop him from choking her. However, she said, she did not kill him for the many years of abuse that she had suffered at his hands.
She said she did not want to be abused again by her husband, but that wish was not the reason for killing him.
The jury, last Wednesday, returned with a 12-0 not guilty verdict. Immediately afterwards, Mr Pinder asked the judge to put a halt on his client's deportation.
Justice Vera Watkins told the attorney he had to put the application to the registrar.
"I filed that motion because ordinarily, Immigration just usually take the person and say they seeing them out of town. So I filed that out of an abundance of caution in order to prevent any such things from happening" Mr Pinder said outside of court.
"Now as it stands, the immigration weren't here because she had already put in all kinds of documents for status and they gonna give her resident status. We have the receipt and everything but we put that in, out of an abundance of caution."