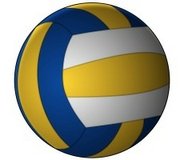 By RENALDO DORSETT
Sports Reporter
rdorsett@tribunemedia.net
IT WAS a quick start for the Bahamas in the 14th Annual Senior Caribbean Volleyball Championships as the team still seeks to qualify for the top tournament in the region.
In their first game Tuesday night, a rematch of 2010's consolation match, the Bahamas again defeated Guadeloupe 25-17, 20-20, 25-13 to open with a win in this year's event, being held in the US Virgin Islands.
Led by Prince Wilson who finished with a game high 14 points, five of which were aces, the Bahamas delivered a dominant performance to serve notice as one of the early tournament favourites.
Renaldo Knowles scored 10 points while Byron Ferguson finished with eight, five of which were kill blocks.
The team faced host country USVI last night, but the results were unavailable up to press time.
The Bahamas is placed in Pool A with Guadeloupe and USVI. In Pool B, the teams consist of Trinidad & Tobago, Barbados, Jamaica and Martinique.
Joseph Smith, head of the BVF's delegation at the event, said the team set the bar high for their performance level in its first outing, a trend he expects to continue throughout the tournament.
"The team looked very relaxed in game one. I don't want to say we were unchallenged but they had a pretty good control of what was going on for much of the game. There were a few early mistakes, but with that confidence we were able to recover," she said. "As the tournament goes on, I think this team will play better as the tournament progresses. They will play better as they are pushed harder and you will see us continue to gel as a team, but for now they already look very poised and focused."
The CVCs serve as a qualifier for the NORCECA Championships, and from there the Bahamas could qualify for the World Championships.
Last year, the Bahamas men's team played in the Continental Championships in Canada where they got ranked as the favourite to win the Senior CVC title.
At the CVC, the Bahamas will have to finish as one of the first two teams in order to qualify for NORCECA and they will need to finish in the top three in order to qualify for the World Championships.
"We expect to play the same type of game we have started with. We want to make people rise to play to our level and make them rise to the occasion. That way we can dictate the pace and everything about the game toward our favour," Smith said. "Our goal is just to win our pool first and let everything take care of itself after that. One thing I can say is that the team is very confident in how well they can do in this tournament no matter the competition. Despite missing a few of our key players like Shedrick Forbes, we are still able to come together and produce on the court and it should bode well for us in the remainder of the tournament."