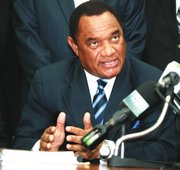 By NEIL HARTNELL
Tribune Business Editor
nhartnell@tribunemedia.net
Principals behind the $225 million trade market proposed for Freeport are hoping last Thursday's meeting with the Prime Minister will enable them to take the project "to the next level", given the "encouragement" they received from the Government.
Confirming that their meeting with Mr Christie took place, Ken Hutton, one of the Bahamas-based principals behind the World Mart merchant/buyers emporium, told Tribune Business that while the project looked forward to working with the Government there was still "a lot of work to do" to make it a reality.
"It was very positive, and the Government seemed supportive," Mr Hutton told this newspaper of the meeting. "We're looking forward to working with them to move it to the next level.
"The Prime Minister was aware of the project already. It was just a face-to-face meeting and giving a level of comfort. There's still a lot of work to do, but the Government was very encouraging to us. This meeting was part of the process, and always has been."
Mr Hutton declined to comment further, but Tribune Business understands that also present at the meeting were Khaalis Rolle, minister with responsibility for investments in the Prime Minister's Office, and Bahamas Investment Authority (BIA) director Joy Jibrilu.
And, besides Mr Hutton and his fellow investor/business partner, Bahamas-based Joe Thompson, Tribune Business understands that also attending the meeting was Ken Russell, the former MP and Cabinet minister in the Ingraham administration.
Sources close to developments, though, have told Tribune Business that the meeting with Mr Christie has given the World Mart project a much-needed 'shot in the arm', effectively reviving it after a month-long hiatus.
This newspaper understands that negative sentiment and scepticism towards the World Mart proposal had been developing among both Cabinet ministers and the Grand Bahama Port Authority (GBPA).
Much of this is thought to centre on questions over whether Messrs Hutton and Thompson have the wherewithal to obtain the financing necessary to pull-off a project of this magnitude.
However, the pair have been working diligently to attract in deep-pocketed partners who can do just this, in particular the US arm of Chinese contractor, Beijing Construction and Engineering Group. Their argument has been that the focus should be on the quality of their partners, not them, when it comes to the financing issues.
Tribune Business also understands that Beijing Construction and Engineering Group, and some of the other potential World Mart partners, were somewhat underwhelmed by the reception they received when they visited Freeport some six weeks ago.
For starters, a government delegation featuring Dr Michael Darville, minister for Grand Bahama; Ryan Pinder, minister of financial services; Grand Bahama MP Greg Moss; and senior civil servants never appeared for a pre-arranged meeting.
And, this newspaper was told, the World Mart partners were also somewhat taken aback by the GBPA's insistence - right from the meeting's start - that they provide tangible proof that the necessary financing was in place.
That insistence is likely to be a product of 'deal fatigue', an understandable condition at both the GBPA and the Government, given the numerous investor proposals that, in recent times, have failed to deliver on upfront promises.
Ian Fair, the GBPA's chairman, gave Tribune Business an insight into this during a recent interview. Describing the meeting between the Port Authority and World Mart as "good progress", Mr Fair nevertheless outlined the GBPA's approach to analysing investment proposals.
"It's for us to determine that the plans and projects they have make sense from our point of view," he explained.
"Is it the correct business plan, and is the funding in place? Once we see the bonafides of that come into place, we'll grant the licence, and then potentially these things happen in short order."
Still, World Mart, which is designed as a buyers/merchant market, where manufacturers and businesses from Asia and elsewhere can show their products and wares to Western Hemisphere clients, has been described as "a game changer" for Freeport and the entire Bahamas.
It is thought to be the only project presently on the drawing board that could truly 'transform' Freeport's moribund economy, which has been perpetually struggling since the 2004 hurricane season and Royal Oasis closure.
Mr Hutton previously told Tribune Business that World Mart had been estimated as having a $400 million annual economic impact, and creating between 6,000-8,000 total jobs in Grand Bahama.
Disclosing that there would be two full-time Bahamian employees for each of World Mart's planned 1,600 stalls, which manufacturers from that region would use to showcase their products to potential buyers and partners in the Western Hemisphere, Mr Hutton told Tribune Business that the one million square foot facility would create between 3,000-4,000 direct jobs.
And he added that the spin-offs for sectors such as the Freeport Container Port and Freeport Harbour Company, Grand Bahama International Airport, the hotel sector, restaurants and other businesses.
The project's build-out was projected to create 600-800 construction jobs, also helping to make a dent in Grand Bahama's 21 per cent unemployment rate.
Explaining that he and his fellow investors had been working on their proposal for a year-and-a-half, Mr Hutton said they had drawn inspiration not only from China's Yiwu International Trade Centre and the wholesale facilities offered there, but also the 1.6 million square foot DragonMart that opened in Dubai in 2004.
The World Mart principals have been aiming for a 2013 first quarter construction start, and a 2015 opening.
Mr Hutton also predicted that once fully operational, World Mart would take-up 75 per cent of Grand Bahama's existing hotel room inventory, filling between 2,500-3,000 rooms per day.