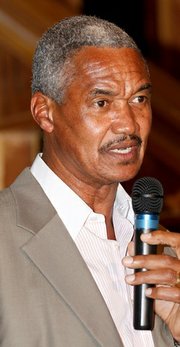 By NATARIO McKENZIE
Tribune Business Reporter
nmckenzie@tribunemedia.net
Efforts to re-open the former Robin Hood store off Tonique Williams-Darling Highway have hit a 'major setback', Mario's Bowling and Entertainment Palace chief executive, Leslie Miller, telling Tribune Business yesterday that the store had suffered $30,000 in damages after thieves stole six air conditioning units last week.
Mr Miller, in an interview with Tribune Business, said he was 35-45 days from re-opening the store and creating 80 jobs.
"We are getting close to re-opening but we had a hell of a setback just Friday night. Some thieves went and took six ten-ton air-conditioners. They went into the store and destroyed every single wire leading to the main panels. They were professionally cut. This was a professional job. It's about $30,000 dollars worth of damage they did. It was utter destruction. They almost destroyed the place,"said Mr Miller.
Robin Hood closed down back in January, its principal Sandy Schaefer telling Tribune Business he had little choice but to liquidate the company after it suffered a $3.6 million net loss in its last year.
Mr Schaefer said the closure of the retailer's second store on Prince Charles Drive, a victim of a delayed opening and the ongoing roadworks, had prevented the company from generating a return on its investment in the property - and resulted in it losing more in its last 12 months than it had collectively earned in the previous four-five years.
Mr Schaefer, though still in the Bahamas, is not thought to be involved with the Tonique Williams-Darling site - that being a project Mr Miller has taken on himself. The Robin Hood owner is understood to be focused on the former Prince Charles Drive store instead.
Mr Miller noted that the closure of Robin Hood, a key 'anchor tenant' at the Summerwinds Plaza, had resulted in the loss of a significant amount of rental income. He confirmed he was attempting to re-open the store himself.
"Here we are trying to put this thing together to employ about 80 Bahamians, and we have a setback like this. Now we are going to have to find an extra $50,000 to replace what was stolen and damaged," said Mr Miller, who noted that restocking the store would cost around $1.5-$1.8 million.
"This is why we can't progress as a people. You have some scumbags out there who believe that all of us work for them. We don't work to better ourselves; we work to bring each other down," said Mr Miller.