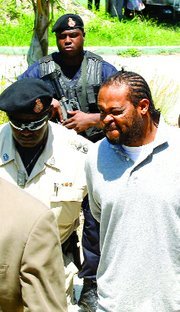 SEVEN weeks after being charged with abetment to murder, Stephen "Die" Stubbs was back in court yesterday accused of abetting a double murder.
Stubbs, 37, of Ridgeland Park, faced two counts of abetment to murder. It is alleged that he aided and abetted the murders of Jamacio Jones and Clayton Smith on September 15, 2011.
Jones and Smith were found in a white Maxima in the middle of the road in Ridgeland Park with gun shot wounds. Smith, who was shot in the back of the head, died at the scene while Jones died of his injuries in hospital two days later.
Stubbs' co-accused, Giovanni Roberts, was arraigned on Monday in connection with the murders.
Stubbs was not allowed to enter a plea to the indictable offences. In June, he was charged with aiding and abetting the August 21, 2009 murder of Delano Morris. He is expected to be presented with Voluntary Bills of Indictment in both cases on September 24. The Bills will forward the cases directly to the Supreme Court for trial, bypassing a lengthy pre-trial in the Magistrate's Court.