By LAMECH JOHNSON
Tribune Staff Reporter
ljohnson@tribunemedia.net
A SUPREME Court jury will now pass judgement on a man on trial for attempted murder, accused of stabbing his ex-girlfriend at a traffic light.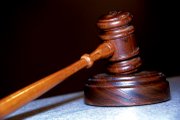 After Justice Roy Jones sums up the evidence given throughout the week-long trial, the nine member jury will deliberate on whether or not Devon Adderley attempted to murder Lashan Smith on the eve of Valentine's Day last year.
Adderley, 26, of Mermaid Boulevard, denies a charge of attempted murder.
It is claimed that on Sunday, February 13, 2011, he tried to murder Smith on the corner of Jerome Avenue and Chesapeake Road.
Last Thursday, Smith raised her shirt for the jury to see the wounds under her arm and on her back.The 24-year-old Smith named her ex-boyfriend as the man who attacked her at a traffic light and said "I'm going to kill you! I don't want no other man to have you! I'm going to kill you!"
On Tuesday, Devon Adderley told the court that it was Smith who had pulled the knife on him first and cut him before he took the knife and retaliated, admitting he was a 'little' angry because of Smith's attitude and actions of late in their relationship.
Yesterday, counsel in the case made their closing addresses to the jury hoping to convince them that Adderley either did or did not attempt to murder Lashan Smith.
Defending attorney Ramona Farquharson-Seymour addressed the jury first and told them that the prosecution did not present a strong case for a number of reasons.
She said despite the Crown presenting photographs of the scene showing blood, they did not present any report or DNA evidence to prove that the blood only belonged to Lashan, as her client also claimed he bled after being attacked first with the knife.
Regarding the knife, the attorney said the police should have have photographed and examined it for fingerprints, which would have helped their case to prove who its owner was – Adderley or Smith.
Regarding Smith's injuries, she said the Crown did not present any medical evidence showing they were life-threatening.
The attorney also said one of the witnesses admitted in court to lying about what she saw take place. Mrs Seymour said the victim herself could not be fully believed based on some of her evidence and they way she hesitated to answer questions.
She said the charge against her client is a serious one and that the prosecution did not prove its case.
Prosecutor Eucal Bonaby maintained that Devon Adderley intended to murder Smith. He referred to the defendant's statement to police, in which he reportedly owned up to being in possession of the knife used in the stabbing, contradicting what he told the court.
He said officers happening to arrive on the scene was a case of "divine intervention" that saved the life of Lashan Smith.
Mr Bonaby also said that Adderley's response to an officer who asked why he had stabbed Smith did not make sense for someone claiming self-defence.
He said instead of saying 'Because she cause me almost get lock up three times', he should've said 'She attacked me first with the knife.'
Regarding Smith's injuries, Mr Bonaby said it doesn't take a medical expert to know their seriousness or the extent of what could have happened had officers not intervened.
He said the injuries about her body, especially on her back near the rib cage and lungs, should lead jurors to an inference of her attaker's intentions based on their own common knowledge of biology and anatomy.
Mr Bonaby maintained that Devon Adderley intended to murder Lashan Smith but divine intervention saved the woman, who had just left church.
In today's proceedings, Justice Jones will summarise the evidence before excusing the jury to deliberate on a verdict.