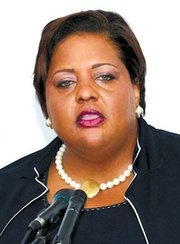 By NEIL HARTNELL
Tribune Business Editor
nhartnell@tribunemedia.net
The late Sir Milo Butler's family has won a battle with the US Justice Department over who should have first claim to $8 million raised from the sale of assets forfeited by convicted Bahamas-based fraudster, Derek Guise Turner.
Documents obtained by Tribune Business reveal that the Court of Appeal has rejected an appeal by the Obama Justice Department against an earlier Supreme Court ruling that placed the Butler family, and other Bahamas-based investors who lost money in Mr Turner's scheme, at the front of the creditors' queue when it came claiming against the assets recovered in this nation.
While all sides are awaiting the Court of Appeal's written reasons for its decision, numerous documents obtained by Tribune Business show that the Butler family - including former Cabinet Minister and now-deputy FNM leader, Loretta Butler-Turner - were among Mr Turner's biggest victims.
His sentencing documents, filed in the US district court for eastern New York, list "victims" collectively owed $55.374 million by Mr Turner. Among them is a 'Loretta Turner' who is owed $2.75 million.
Loretta Turner is also named as a party in the Court of Appeal action, along with Messrs Edward and Derek Turner, plus several Butler family companies, Franklyn Holdings and Milo B. Butler & Sons Investments. Another party to the Court of Appeal action, Peter Thomas Davis, was listed in US Justice Department documents as owed $3.5 million by Mr Turner.
In addition, Tribune Business can reveal that Mr Turner was released from a US federal prison in August 2011, after serving a "concurrent" 87-month sentence.
He has subsequently returned to the Bahamas. Sources familiar with developments have told this newspaper he is living quietly in rented accommodation in the Cable Beach area, aiming to keep a low profile and 'stay below the radar'.
Details on the court battle between the Bahamas-based investors and the US Justice Department have been obtained by Tribune Business via reports from the liquidator of Mr Turner's Australian companies, Turning Holdings and Turning Investments.
In a July 14, 2011, report to Australian creditors, liquidator John Melluish disclosed that some $22.7 million was advanced from Mr Turner's Turning Group to Turning International and Turning Properties, "which were used to purchase assets in the Bahamas in the name of Derek Turner".
"As you are aware, Turning Group lent $22.7 million to the US Turning Group," Mr Melluish said. "The US entity then advanced money to Mr Turner who, in turn, purchased assets in the Bahamas."
In Mr Turner's sentencing document, which recommended he "receive mental health counselling while incarcerated", the US Justice Department said that as a result of his plea agreement - where he pleaded guilty to a wire fraud charge - he was required to forfeit three Bahamas-based properties.
These were Villas A and D at Paradise Garden Villas on Paradise Island; Lot 5 at Ocean Estates on Paradise Island; and 700 Bay Street. The latter, which was formerly the headquarters of Mohammed Harajchi's Suisse Security Bank & Trust prior to Mr Turner buying it, is now the home for Davis & Co, the law firm of Deputy Prime Minister Philip Davis.
The plea deal also required Mr Turner, and Turning International, to surrender their interest in two bank accounts located at Scotiabank (Bahamas).
Mrs Butler-Turner could not be reached by Tribune Business for comment yesterday, but the Australian liquidator's report described these assets as "still subject to litigation between various Bahamian investors and the US Department of Justice" - a reference to the case now decided by the Court of Appeal.
"The Department of Justice have advised that all properties have been sold, with approximately $8 million remaining after various costs in realizing the assets were met," the Australian liquidator wrote.
"The proceeds are held in deposits overseen by the Bahamian court until a determination is made on the ranking of the Bahamian investors and the Department of Justice claims."
The report also confirmed that Mr Turner's US prison sentence "has been reduced", and that he was to be released in August 2011.
The Australian liquidator and creditors have taken a keen interest in the Bahamian court proceedings, hoping the US Justice Department claim would succeed, because then the $8 million proceeds from this nation could be pooled with the Australian recoveries.
Has the US Justice Department won, and an asset pool featuring US and Australian creditors been formed, the latter would have recovered "15 cents in the dollar", as opposed to "7.02 cents in the dollar" - a more than 100 per cent increase or doubling of the recovery.
The implications of all this had been set out in an earlier 2008 report by Mr Melluish, the Australian liquidator. He wrote: "One of the Bahamian investors has filed a civil suit against Mr Turner [and his assets] in the Bahamas. As a result, the Bahamian court will have to determine if the investor's claim takes priority over the Department of Justice claim.
"As such, if the outcome is in favour of the Bahamian investors, this could have a significant effect on the funds available for distribution to unsecured creditors."
The 2008 report said two Bahamas-based properties owned by Mr Turner and his companies had been sold for $5 million each, generating gross proceeds of $10 million. Given that $8 million is available for recovery, this indicates that some $2 million in costs were incurred in dealing with their disposal.