By AVA TURNQUEST
Tribune Staff Reporter
aturnquest@tribunemedia.net
PRIME Minister Perry Christie yesterday defended his first government's decision to block the 2002 referendum despite their current plans –10 years later – to introduce a similar vote.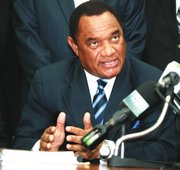 Speaking on the sidelines of a parliamentary conclave yesterday, Mr Christie said his then-administration opposed the process taken, not the content, of the referendum.
He added that his government's decision to hold the referendum at this time was not motivated solely by Bahamian public opinion, but growing international concerns of the country's policies.
"We opposed last time on a specific ground," Mr Christie said.
"I went to the Seventh-Day Adventist gathering, I remember the then leader of the Seventh-Day Adventist saying that they weren't consulted and because they weren't consulted they couldn't participate. I then checked and found out that all of the churches were saying they weren't consulted.
Mr Christie said: "I then went to my colleagues and said for the purposes of lack of consultation we must oppose this unless Ingraham decides to stop it and consult, and he didn't."
Foreign Affairs and Immigration Minister Fred Mitchell announced plans of a referendum to remove discrimination against women, as it related to the transfer of citizenship, from the constitution on Monday.
Stating that he did not want to be pinned down on a timeframe, Mr Mitchell said the government would hold the referendum before the next general election in 2017.
At the outcome of the 2002 referendum, then prime minister Hubert Ingraham said he was "ashamed" that voters decided against bringing the country in line with United Nations conventions on equal rights for women.
Speaking to the media yesterday, Mr Christie said he did not feel that the rejection of the 2002 referendum was a setback for, but demonstrated that no government should act against public will.
"It was not a question as to the judgment of the substance of it." Mr Christie said. "It was a judgment of the process, and we attacked the process and we were successful in attacking the process.
"Now the by-product of it was that (the referendum) wasn't passed, but we were never motivated against any issue on the referendum, we were motivated against the fact that it was being imposed upon people against their will."