By CELESTE NIXON
Tribune Staff Reporter
cnixon@tribunemedia.net
THE government will allocate $7.5 million towards necessary social safety net reform, Minister of Social Services Melanie Griffin announced.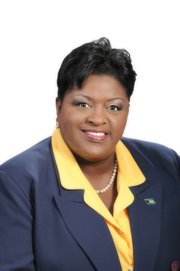 During a speech in the House of Assembly, Mrs Griffin said the government will table a resolution to borrow $7.5 million for the Inter-American Development Bank for the sole purpose of developing a Social Service Safety Net Project intended to strengthen and modernise social services in the Bahamas.
She said: "I rise to make my communication with regard to Social Safety Net Reform and I wish to declare that a new day is dawning on the delivery of social services.
"We are on the verge of a real breakthrough in our social safety net system which we believe will bring social services into the 21st century and as noted in our Charter of Governance, see a country where all citizens are economically empowered to provide for themselves and their families and have equal opportunity to access services that will enhance the basic quality of life for all."
Following an assessment of the current social safety net, Mrs Griffin said it was found that rationalisation of existing programmes and improved co-ordination is needed.
Currently, programmes rely on inefficient targeting mechanisms, delivery is inconsistent, information and monitoring systems are weak, policies and procedures are not properly documented, National Insurance reform is needed and the safety net is not helping those who need it most, she said.
"The findings clearly showed the need for social safety net reform," she said. "The current delivery of social assistance is labour intensive and highly subjective."
According to Mrs Griffin, the social safety net reform will include consolidation of social services programmes, improved targeting and the introduction of a Conditional Cash Transfer (CCT) programme.
Mrs Griffin said CCT is an integral part of the project which "targets the poor, provides a cash grant and requires households to comply with health and education conditions primarily on part of children in the household."
Institutional analysis and strengthening of the Department of Social Services will also take place, she said. 
With many families on welfare from one generation to another, Mrs Griffin said, "along with the introduction of the Conditional Cash Transfer this has the potential to revolutionise the delivery of social services and break the cycle of poverty for so many struggling families in our country".