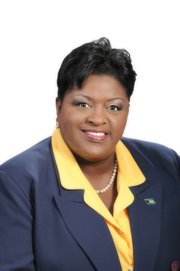 THE Bahamas Technical and Vocational Institute's decision to "significantly increase" its outreach programmes has resulted in a greater number of Bahamian women seeking careers in non-traditional job sectors, Minister of Social Services and Community Development Melanie Griffin said.
This includes areas such as agriculture, construction, engineering, the automotive industry, electrical engineering and technology.
Mrs Griffin said the decision by BTVI is one of the many examples of the mechanisms that have been put in place in the Bahamas that have allowed women to make inroads into job areas that were once considered "male only".
The female incursion into traditionally male jobs, Mrs Griffin said, can only reap benefits for the country as the training of women for non-traditional careers, "increases their marketability, while preparing them to survive in today's diverse and competitive workforce."
She said: "The government of the Bahamas is cognizant of the fact that one way to effectively eradicate poverty is through education. By training women for non-traditional careers, we increase their marketability and prepare them to survive in today's diverse and competitive workforce."
Appearing before the United Nations Committee on the Convention for the Elimination of All Forms of Discrimination Against Women (CEDAW), in New York, Mrs Griffin said this new development, when combined with other advances made by women in the fields of business, banking and finance, government, the judiciary, public service, entrepreneurship and education, is helping to bridge the gap between men and women in the job market.
Mrs Griffin said that while many young women in the Bahamas still have a tendency to focus on service-oriented careers in hospitality and healthcare professions such as nursing, many more are choosing non-traditional, male dominated areas.
"At the administrative and executive levels in the public service and the judicial service, women have already achieved considerable success. As of 2012, women represented almost 70 per cent of all permanent secretaries and heads of government ministries and accounted for 45 per cent of the Justices in the judicial system," Mrs. Griffin said.
"Women also hold 71.2 per cent of the top administrative positions as principals in the public educational system (and) female representation at the international level is also significant with females serving as heads and/or interim heads of five of the 10 Bahamas missions abroad. As a matter of fact, Ambassador (Dr Paulette) Bethel currently serves as the first female permanent representative of the Bahamas to the United Nations, one of the few missions that, although small in staff complement, is composed of all-female diplomatic officers.
"Madam chair, in terms of non-traditional careers pursued by women, it would be remiss of me if I did not mention that three female pilots employed by the national airline of the Bahamas were promoted to the rank of captain, the first in the country's aviation history."
Mrs Griffin told the Committee that women are playing an integral role "in all manner of social, economic, cultural, political and public life."
She said this was made "strikingly apparent" during the 2012 general elections which saw an increase in the number of female candidates seeking elected office, representing 16.5 per cent of all candidates. Furthermore, 18,574 more women registered to vote than men.
"Notably, women have served in high political offices in the Bahamas. From 2002-2007, women, for the first time, held the positions of deputy leader of a political party; national chairman of a political party; Deputy Prime Minister and Minister of National Security. More recently, my predecessor – also a member of Parliament – was elected the first female deputy leader of her party.
"While we have not yet achieved the target of 30 per cent set out in the Beijing Platform for Action, we are fully aware of the fact that we have much more work to do in this area," Mrs Griffin added.