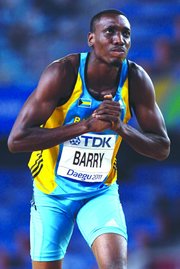 By BRENT STUBBS
Senior Sports Reporter
bstubbs@tribunemedia.net
LONDON, England — When Trevor Barry soared to the bronze medal at the IAAF World Championships last year in Daegu, South Korea, his coach Keith Parker was giving him some pointers from his sick bed in the Bahamas. The duo, however, are together at the Olympic Games and they are looking forward to another podium performance on Tuesday, August 7.
"It's going to be better than Daegu because I won't have to go back and forth on the telephone trying to get his advice," said Barry, who had to end up working with coach Ronald Cartwright at the championships. "I'm just glad that he's here. So what I've been able to accomplish in Daegu, I know that I can do it here and even more.
"I don't want to put any added pressure on myself, but the gold is the prize. I just have to go out there and do my best. Hopefully I can do my personal best, which should enable me to get a medal again."
While the goal is to get a medal, Parker said if Barry does what he's required to do, he could be looking at a gold being placed around his neck.
"After missing Daegu, that was something else," said Parker, who didn't want to dwell too much on what took place. "I was really sick. I was in hospital and when I came out, I could hardly speak. I was talking to Trevor everyday telling him what was required. But it was a different strategy. So I'm glad that I'm here to take him through it this year."
Parker, a native of England, who has been in the Bahamas for so long that he's become a long-term citizen, said Barry has a personal best of 2.32 metres and that should put him right in the mix for a medal.
"I haven't checked the list today, but there are seven guys who have a personal best higher than Trevor," Parker said. "Out of those seven guys, he's beaten three of them at one time or the other this year. So they are moving around. The Russian guy, who has the best jump so far this year, Trevor has beaten him twice.
"So I'm confident that once he makes the final, he will be right in the mix. He's a very consistent jumper and he has few knockdowns. So once he chooses the right height to pursue, he will be right up there with everybody. I know there will be a few guys who will clear the same height as he does, but it will come down to who has the fewer knockdowns."
In preparation for the competition, Parker said Muzino, Barry's show sponsors, have provided him with some new spikes that he just got over the weekend and he was able to fit them very well.
"He came out yesterday (Monday) to see how the shoes felt and even though it was raining, he said they felt great," Parker said. "So that is really a plus for him because at last he got the shoes that he's comfortable in using. So everything is going well for him. We are trying not to let the other things interfere in what he has to do."
Parker was referring to the fact that they're having a difficult time trying to secure the tickets for Barry's supporters, including his wife, to be able to watch him compete in both the qualifying rounds on Sunday and the final next Tuesday. Although they ordered the tickets well in advance, Parker said they have not been able to physically hold them in their hands, which is causing some anxiety for Barry.
"Ticketing here is a complete shambles," said Parker, who indicated that he's having difficulty getting it all sorted out. "So I'm trying to keep the uneasiness of that out of his mind. But I know it's there."
If push comes to shove, Parker said they've bought a ticket for about $700 for his wife, Sara, which will he make sure that Barry's wife can use just so that he's comfortable when he enters the track to compete.
With the Parkers trying to sort out the ticket dilemma, Barry said he's just enjoying life as an Olympian in the village.
"The Olympic Village is very nice. It has all of the amenities for an athlete to prepare for his ultimate experience," he said.
"So it's been pretty good so far. The Olympic Committee has always been able to provide us with the facilities so that we can do our best. The coaching staff, the medical team, my team-mates, they have all been great. Even the Bahamas Olympic Committee has been very accommodating for us as a team."
As the pinnacle of sports in the world, Barry said he's delighted to be able to pursue another medal to go with the bronze he got last year at the World Championships. Other than the Olympics, the only other medal missing is the Commonwealth Games, which he intends to add to his collection in 2014 in Scotland.