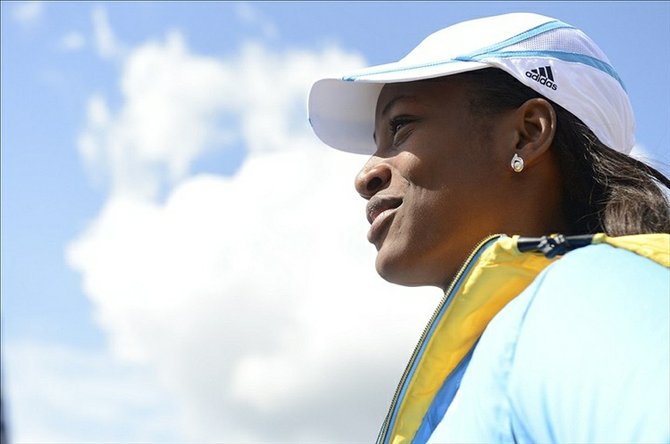 By BRENT STUBBS
Senior Sports Reporter
bstubbs@tribunemedia.net
LONDON, England — It's one thing to be competing in the Olympic Games. It's another thing to have your father on the sidelines coaching you.
Quarter-miler Shaunae Miller is enjoying the best of both worlds with her father, Shaun Miller, as a part of the Bahamian coaching staff in another historic moment for the Bahamas. It's the first time in track-and-field that a parent is coaching their child at the games. However, the first father-coach combo was in Sydney, Australia when Andy Knowles coached Jeremy Knowles at the 2000 Olympic Games.
"It's really good. Of course, sometimes we have our ups and downs," said Shaunae, "but I love him here because I know he has my back. So I'm happy that he's here with me. It makes it that much easier for me to compete."
And just in case you're wondering if there's any added pressure with him being here, Miller said she's not letting it get to her.
"I'm not the type to get easily rattled," she said. "So it's not a problem."
Shaun Miller, a former distance runner who never got the opportunity to represent the Bahamas at a major global international meet, said he's just as excited about his daughter about being here at the games.
"It's an honour. It's also coming down to the last meet that I will get to coach her (before she head off to school at the University of Georgia after the games), so I'm just glad that I have this opportunity," he said. "I would have liked to have her 100 per cent healthy, but she's in good shape and her preparation has been coming along very well."
As for her frame of mind, Miller said she's "pretty much in that Olympic mood right now. So that's a good thing for her."
Miller, the 18-year-old graduate from St Augustine's College, who is coming off a fourth place finish at the IAAF World Junior Championships in Barcelona, Spain earlier in July, won't compete until Friday when she's entered in the first round of the women's 400 metres at the Olympic Stadium. The semifinal is set for Saturday and the final will take place on Sunday.
Coming into the games, Miller has the 38th fastest time in the world of 51.25 seconds. But out of that field ahead of her, only about 16 will be allowed to compete as there are only a maximum of three competitors per country allowed, unless there is a wild card entry. So taking those figures into consideration, it's all up to Miller to go out and perform.
"We just want to get through the rounds," said Miller after taking his daughter and Grand Bahamian Amara Jones through their workout session yesterday. "Once we do that and we get to the final, it will be a challenge."
Miller has endured his own personal challenge here. As he's not fully accredited to the team, the Bahamas Olympic Committee's secretary general Romel Knowles has been working around the clock, making sure that he's getting the necessary passes to be able to assist his daughter and the team in their practice sessions.
"I'd like to be in the stadium. Hopefully this pass that I have will get me in there," he said. "If not, I'm going to have to find a way to get there because I need to be there to watch her run."
If all else fails, Miller said he and his wife, May, who is scheduled to arrive here today, will have to watch elsewhere. But he admitted that there's no better place for him as a coach to be than in the stadium for his daughter's Olympic debut.