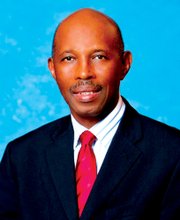 By NEIL HARTNELL
Tribune Business Editor
THE Grand Lucayan resort has stunned many in the hotel/tourism industry by withdrawing from the Grand Bahama Island Tourist Board, Tribune Business can report, with the Ministry of Tourism locked in talks to resolve the situation "between now and June 13".
David Johnson, director-general of tourism, confirmed to this newspaper that the Government was locked in "serious negotiations" with the troubled Grand Lucayan and its owner, Hong Kong-based conglomerate Hutchison Whampoa, after a move that drastically slash the Board's joint marketing/promotional budget.
When Tribune Business contacted Mr Johnson about the Grand Lucayan, and both its withdrawal from the Board and subsequent potential cuts to the island's joint marketing budget, the director-general replied: "Much of that is so.
"We are having serious negotiations with the Our [Grand] Lucayan group. While we're having those negotiations, I'm reluctant to speak about them, except to say that we expect to have them resolved between now and June 13."
The reasons for the Grand Lucayan's withdrawal from the Grand Bahama Board are unclear at this stage. Tribune Business was directed to speak with Sherry Brooks, head of corporate affairs at the Freeport Container Port, the hotel having been placed under the control of Hutchison's Ports group, but was unable to reach her before the holiday weekend.
But, confirming that "what goes with the membership will stop" as a result of the Grand Lucayan withdrawing from the Board, Mr Johnson added: "Clearly we'd like to see major hotels, especially, being members of the Boards, their organisations.
"We work closely with the Grand Lucayan, as a major hotel and investor in the country. There are clearly concerns, and we've started to address those things in talks with them. We're having those discussions."
It is an open secret that the Grand Lucayan is a troubled property, and has been that way for some time, hence its transfer to the Ports group. Dr John Meredith, group managing director for Hutchison Port Holdings and the Bahamas' honorary consul in Hong Kong, last November told Tribune Business that the property was in "a perilous position", and that its owner was "frankly desperate" to find a way to reduce electricity costs.
The Grand Lucayan, Dr Meredith added, had sustained losses amounting to "tens of millions of dollars" annually for a long time, and survived via Hutchison Whampoa subsidising these "heavy annual losses" for years.
This came after the closure of Grand Lucayan's Reef hotel earlier in 2011, and the consolidation of all hotel operations into the Manor House property. This had slashed both the electricity bill and some 200 jobs, reducing Grand Lucayan's workforce to 550 full-time and 200 contract employees. Rooms were down from 1,200 to 500.
Since then, Hutchison Whampoa has been exploring whether to convert the Grand Lucayan into an all-inclusive that would prove more attractive to European visitors, while also targeting Latin American and Asian markets.
Meanwhile, Mr Johnson said: "From the Government's perspective, we're concerned with the health of all hotels in the Bahamas. We are meeting with Grand Lucayan to discuss their needs and Grand Bahama in general."