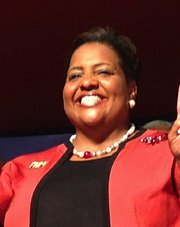 By DANA SMITH
dsmith@tribunemedia.net
SPEAKING in the House of Assembly yesterday, Long Island MP Loretta Butler-Turner appealed to the government to pass the Equal Opportunities Disabilities Bill.
When it was tabled in Parliament last February, Mrs Butler-Turner said the Bill would bring the rights of persons with disabilities into the 21st century.
Some 30 years in the making, Mrs Butler-Turner said, the "important, landmark piece of legislation" would fully define the rights of the disabled and endeavor to eliminate discrimination against them.
Speaking in the House yesterday, she stated: "I note that there has been some discussion of possible further consultation on the Equal Opportunities Disabilities Bill 2012 which was tabled by myself in last Parliament.
"That legislation is ready to go. The disabled community has waited too long for such legislation."
Various disabilities groups and advocates have "expressed deep concern about yet another delay," she claimed, especially after the ending of last year's "extensive" consultations.
"I urge the Christie administration to act now and without further delay," she said. "We trust that this legislation will be immediately advanced. Any more delay would be unfair and lacking in consideration."
The Equal Opportunities Disabilities Bill seeks to "establish the framework for equal treatment within the cultural, domestic, economic, educational, health, industrial, legal, political and social arenas in the Commonwealth of the Bahamas, as it relates to disability discrimination".
The Bill's provisions guarantee and protect the fundamental human rights of persons with disabilities, as defined in the United Nation's Convention of the Rights of Persons with Disabilities.
It covers: the promotion, protection and full and equal enjoyment of human rights for persons with disabilities; elimination of discrimination on the basis of disabilities; provisions for welfare and rehabilitation; provisions for the registration of persons who are disabled; and the establishment of the Bahamas Disabilities Rights and Commission.
Mrs Butler-Turner said the Advisory Council on Disabilities was consulted, as well as all parties and stakeholders.
She said their suggestions have been considered and many will be incorporated into the Act.