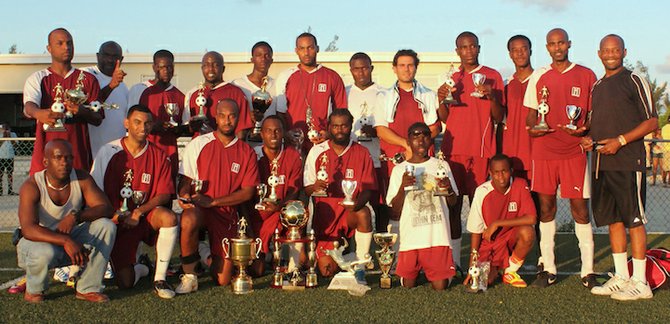 A landmark year for the Insurance Management Bears concluded in dramatic fashion with a postseason tournament victory to cement their status as the top team in the Bahamas.
The Bears' dominant season in the Bahamas Football Associations men's senior football league ended Sunday with a 7-2 victory over the Baha Juniors in the final of the Knockout Cup at the Roscoe Davies soccer field.
With the win, the Bears captured both the league title and cup double, having previously clinched the league championship by a seven point margin over runners up Cavalier FC.
Closely contested for much of the match before the Bears pulled away late, Insurance Management took an early lead when Domingo Hurston scored during the eighth minute.
Baha Juniors responded with several aggressive possessions, most notably when Kevin Surijal burst through the Bears back line but was denied the goal by a diving save by the Bears goalkeeper.
The Bears were reduced to 10 men in the 20th minute when Renardo McCallum was sent off for a second carded penalty. Two goals in a three-minute span would surge the underdogs ahead.
Baha scored the equalizer three minutes later when Nick Constantine slotted home from the penalty spot and then went on to take the lead through a fine finish by Alken Delancy in the 26th minute.
Insurance Management issued a response by the league's top scorer as Nesley Jean brought the Bears even 2-2 in the 31st minute.
Jean gave his team the lead for good with a header five minutes before the break to give the Bears a 3-2 lead at halftime.
The second half started fairly even but the Bears went further ahead in the 59th minute when Dermot Mitchell scored.
Their dominance began to shine through when, despite being a man short, the midfield duo of Jean and the veteran Steve Jones controlled the tempo of the game and began picking off the Baha defense at will.
Youth player of the year John Mareus reached the score sheet with the Bears' fifth goal in the 70th minute.
Mitchell scored his second of the day from close range in the 82nd minute and completed his hat-trick, and the days scoring, with a beautiful chipped finish from 25 yards after another stellar through ball from the Bears midfield.
The Knockout Cup Final was followed by the league's end-of-year awards presentation for all men's competitions:
League champions - Insurance Management Bears
League runners up - Cavalier FC
Knockout cup winners - Insurance Management Bears
Knockout cup runners up - Baha Juniors
Charity Cup winners - Lyford Cay
Masters League champions - Cavalier FC
Master League runners up - Casuals
Individual Awards
Most Valuable Player - Nesley Jean (Insurance Management Bears)
Goalkeeper of the year - Joe Byrne (Lyford Cay)
Defensive player of the year - Rajeh Brissette (Insurance Management Bears)
League's Top Scorer - Nesley Jean (Insurance Management Bears)
Youth player of the year - John Mareus (Insurance Management Bears)
Coach of the year - Larry Minns (Insurance Management Bears)