By LESH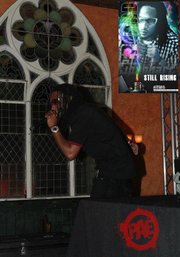 SINCE the new year, musician J Shephard has been keeping busy, launching a non-profit organisation, and fundraising for its programmes.
Now, with the recent release of his new single, "I Need You Girl", J Shephard's plate is brimming over.
Since he broke into the music world 10 years ago, J Shephard released some 50 singles, which all tell in unique story. He describes his music as having a certain "Bahamian swag" that incorporates other styles of music, such as Reggae, Soca, Hip-Hop, Rap, and R&B. He is currently in the process of producing a first album.
"For the remainder of the year people can look forward to more good music, videos, more charity work for the youth within our community, and more live performances," said J Shephard, who has performed at Mario's Bowling & Entertainment Palace, Crystal Palace, Uptown Nightclub, Fourth Quarter and Club Gold in Abaco.
At the age of 19, the singer-songwriter said his life was changed forever changed by violent crime. This propelled him into the music industry to make a change for the better.
On May 11, 2003, while attending college pursuing a degree in accounting, Jamaal was shot in the face and lost his left eye. During his recovery, Jamaal said he began walking closer with God. "I realised that it was only because of him that I survived," he said.
Today, Jamaal uses his music as another avenue to reinforce a non-violent and positive message. He said that pursuing both a musical career and a bachelor's degree in audio production/engineering has been a challenge, but he feels he has been given the gift to reach people.
"It has been quite a challenge pursuing my music career due to school and other time consuming events that have occurred in my life. It's also been a struggle financially, especially when you have limited support. However, my mother along with my manager Lakiesha Singh have been nothing but a big help and a miracle to my career," said J Shephard.
Since the launch of the J Shephard Foundation, which aims to empower young people through education, J Shephard has been fundraising. The first project launched by the foundation, 'Next Generation', seeks to provide disadvantaged children with much needed school supplies.
"I launched the J Shephard foundation because I believe that if we raise better children, we would have better adults, giving the next generation better parents, and giving society better citizens. I believe the only way to raise better children is to empower them through education," said J Shephard.
"As a fellow Bahamian who was born and raised in Nassau, I know and understand the hassle and struggle of trying to achieve the best education when your financial situation is a struggle on its own. I chose to name the project Next Generation because the purpose of the project is to make the next generation a better one," he said.
For more information, visit http://jayshephard.wix.com/jshephard.