By LAMECH JOHNSON
Tribune Staff Reporter
ljohnson@tribunemedia.net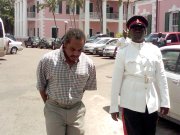 AN estranged husband whose wife was repeatedly stabbed panicked and left the scene of the attack "hurt, upset and confused," a Supreme Court jury heard.
Michael Scott, 45, a Jamaican national who lives in Miami, Florida, came to Nassau to spend time with his family and make-up with his wife Sheneka Colebrooke on December 20, 2009.
He had not expected to see his wife on the road in Palm Beach Street in the early hours of that day with 21-year-old David Rolle, her lover, because she had told him she was not involved with anyone.
It is claimed Scott tried to kill his estranged wife in the road - not far from the home where she lived with her mother.
He stabbed Rolle, causing his death, then repeatedly stabbed his wife, the court heard. Scott denies murder and attempted murder. He says he defended himself and that his wife's injuries were non-intentional. He had no intention of hurting anyone, the court heard.
Yesterday, Detective Sergeant Antoinette Hall read Scott's original police statement to the court.
Scott, hours before the incident, had caught a plane from Ft Lauderdale to Nassau with the intention of making contact with his wife regarding their family's future, the court heard.
"I arrived after 12 midnight as there was an overbook and delay in the flight after leaving the airport," Scott said in his statement.
After catching a taxi to his friend's house to drop off a few items, he allegedly caught a ride to Key West Street to meet up with a friend he considered family.
"He was not at home so I proceeded to acquire the use of his car as I normally do when I come to visit. The car was on empty so I proceeded to the gas station which was on the corner of Blue Hill and Robinson Road roundabout.
"I got the $10 gas and turned around to get something to eat from Kentucky but I changed my mind as it seemed as if they were closed.
"I proceeded onto Robinson Road and I went through Palm Beach Street. At midway, down Palm Beach Street, in the direction to where Sheneka lived, I saw her walking alongside the deceased in question," the statement said.
Scott, in his statement, was upset at this because as far as he knew from their conversations, she was sick, in and out of hospital, not working or involved with anyone, and was staying home with the children instead of partying.
"I got out of the car and approached her, and held her hand and began to try and get her to come into the car with me so we could speak," the court heard.
Scott claimed he had a knife because he was held up by two men a few months back when he visited to speak privately with his wife. He reported it to the Grove Police Station, but claimed police did nothing about it.
"While trying to put her in the car, so we could go talk about our relationship, she told me a week ago that she was coming back home with the kids, I did not want no outside influence and things didn't go the way as planned," the statement said.
"The deceased took a tyre wrench out of the passenger's side of the car and proceeded to break out one of the windows. I came out of the car, while holding onto my wife, while the deceased in question proceeded to attack me."
Scott, in his defence, held up the knife to ward off the attacks that struck him and his wife a couple of times.
"I didn't realise that he got stabbed with the knife until I saw him turn when I coming around, and walked across the yard and turned around where I noticed he was bleeding from his arm so I received blows to the back of the arm in the process," Scott told police.
"I did try to get her in the car while holding the knife still not realising I had inflicted wounds on her. She then drew my attention to the deceased and his injury. I then let her go and she ran over to him and fell and I tried to pick her up not realising what I was doing.
"I then panicked and left the scene, hurt and upset, and confused, not thinking straight because this is not what I came for. I only came to see what was going on with my family and to spend time with my wife and to see where we were heading with getting the family back together."
Scott, according to his statement, tossed the knife somewhere between Palm Beach Street and Prince Charles where he gave up the chase with police.
At the conclusion of his statement, Scott said: "I'm deeply sorry for everything that has happened. It was not my intention to hurt anyone but I had not expected to see her with anyone out in the morning on the road as she said to me she was sick, in and out of hospital, and that she was not involved with anyone and that she also stayed at home.
"I was upset and hurt but did not have any intention of hurting anyone. I also regret the loss of life and apologise to his family for their loss. I only tried to defend myself from his attack. I never at no point in the process, attack him."
The prosecution closed its case yesterday against the accused and the defence opened its case with Scott volunteering to testify under oath.
Murrio Ducille asked his client about the alleged incident where he was held up at gunpoint by David Rolle in May 2009 when he had come to visit his family.
Scott said he went to Colebrooke's house but she was not home. He had left Palm Beach Street with the friend he had met up with to go to his friend's home on Key West Street when they noticed they were being followed by a young man.
On route to their destination, he had met up with his wife, and asked to speak with her privately at the residence. They arrived to the house where Scott, his wife and "Venice", a friend of David, had gone up to the house, but David had started "acting" up.
David, Scott claimed, threatened to hurt Ms Colebrooke if she went inside and Scott's wife reportedly panicked and became agitated.
It was here that David and his friend reportedly pulled the guns on him and tried to rob him of his money. However, his wife pleaded with David and they left, not before David allegedly threatened to "put him down" if such an occasion ever occurred in the future.
Darnell Dorsette, prosecuting, cross-examined the defendant and suggested to him that his "unfaithful ways" had led to his wife leaving him without telling him face to face and keeping her locked up in Miami.
She also asked why did he marry Colebrooke if he claims the two of three children were not his.
Scott denied that he was an unfaithful or controlling husband and told the prosecutor that he married Colebrooke and reared children that didn't belong to him because of his Christian upbringing and the love in his heart.
Directing her questioning to the incident in question, the prosecutor suggested to the defendant that seeing his wife with Mr Rolle sent him into a rage.
Scott said: "I was upset."
Ms Dorsette suggested that he was so upset that he tried to run them over.
"No, ma'am" he replied.
She asked him if he would do anything for his wife.
"Almost anything," he said.
"You would kill in order to keep her?" the prosecutor asked.
Scott said: "No, ma'am."
Ms Dorsette concluded in her cross-examination that he intended to kill David Rolle and by the extent of the 17 injuries to Ms Colebrooke, "you intended to take her out."
"No, ma'am" Scott said.
The trial resumes today.