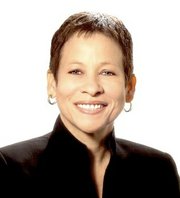 By KHRISNA VIRGIL
kvirgil@tribunemedia.net
A STATUE of the late Sir Lynden Pindling will be raised at the international airport to mark the completion of the facility and the country's 40th year of independence, Minister of Transport and Aviation Glenys Hanna-Martin announced yesterday.
The Minister did not give a specific date of the monument's installation or its cost to taxpayers.
Sir Lynden led the Progressive Liberal Party from 1965 until he left frontline politics in 1997. He died on August 26, 2000.
Mrs Hanna-Martin made the announcement as newly elected Cabinet ministers toured the facility for the first time and assessed the progress of the Lynden Pindling International Airport's phase two of construction.
She said: "The government will, by the time as this airport facility is concluded – but within the celebration of the 40th anniversary of our independence – erect and unveil a physical embodiment of Lynden Pindling somewhere at a strategic point at this airport to finalise the whole conception which began with our Prime Minister (and) his focus, concentrated, (and) disciplined approach.
"He was very sensitive to all the nuances that were involved in this issue. The airport has many issues and many dimensions and he was cognisant of all those dimensions. He brought that to the table, with tremendous energy and what you see unfolding is symbolic of what he set out to do."
The construction of the LPIA has been split into three phases, and has a total build-out valued at $409.5 million.
Phase two of the airport will include the completion of the international and US departure gates and the international arrivals terminal. As it stands, NAD officials said the project is 75 per cent complete, on schedule, and within budget. Officials expect this phase to be opened and operational in October of this year.
The second phase has four retail locations, four restaurants, bars and lounges, and six hotel reception lobbies.
Nassau Airport Development Company (NAD) President and CEO Stewart Steeves said the finished product will facilitate an increase in passengers per year from three million to five million.
The capacity for large aircraft will also increase, Mr Steeves said.
NAD, in April 2007 signed a 30-year-lease with the government to manage the daily operation of LPIA. The company is responsible for most of the physical infrastructure at the airport which includes parking lots, terminal runways and taxiways.
Phase three began last month and is slated to be completed in the Fall of 2013.