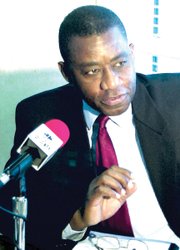 By NEIL HARTNELL
Tribune Business Editor
THE Bahamas has "pushed ourselves further into" the ranks of 'Third World' nations via the rapid rise in the national debt, with an International Monetary Fund (IMF) report warning this nation's 57.6 per cent debt-to-GDP ratio has passed the threshold at which it will act as "a drag" on its economic growth.
James Smith, a former Central Bank governor and now-Ministry of Finance consultant, told Tribune Business that the Bahamas had "dug ourselves a hole" with a national debt projected to hit $4.613 billion by end-June 2012, adding that its fiscal woes were begin to resemble "more and more" those of its many troubled Caribbean neighbours.
As he acknowledged that it would be "very difficult" to get the Bahamas' fiscal deficit and national debt back on to a sustainable trajectory, Mr Smith's comments were given further credence by an IMF paper, published on Friday, which showed this nation's debt-to-GDP ratio was now likely to 'drag down' its economic growth.
The paper, Threshold Effects of Sovereign Debt: Evidence from the Caribbean, analysed the Bahamas and 12 other regional nations, and found that above a 55-56 per cent debt-to-GDP level, any further increase in that ratio would impede economic growth.
The Bahamas, which is projected to have a total debt-to-GDP ratio of 57.6 per cent by month's end, according to government statistics, has already breached that barrier.
"The main finding is that there exists a threshold debt to GDP (GDP) ratio of 55-56 per cent," the four authors of the IMF paper found. "Moreover, the debt dynamics begin changing well before this threshold is reached.
"Specifically, at debt levels lower than 30 per cent of GDP, increases in the debt-to-GDP ratio are associated with faster economic growth. However, as debt rises beyond 30 per cent, the effects on economic growth diminish rapidly.
"And, at debt levels reaching 55-56 per cent of GDP, the growth impacts switch from positive to negative. Thus, beyond this threshold, the debt becomes a drag on growth."
Tackling the rapid rate of increase in the Bahamas' fiscal deficit, projected to hit a record $550 million under the GFS measurement during the 2012-2013 fiscal year, and the national debt could arguably be the Christie administration's greatest challenge over the next five years.
But, beyond some revenue enhancement measures largely left in place by the former Ingraham administration, pledges of tax reform and efforts to get the private sector going, it has yet to lay out a clear strategy for containing the fiscal deficit and national debt.
"The trend is still very worrisome," Mr Smith conceded, "because it's very difficult once you've let the horse out of the barn. It's very difficult to get it back".
He argued that the projected $550 million fiscal deficit for 2012-2013 was largely "a catch up from all the expenditure that has taken place", meaning it has resulted from extra debt servicing and spending commitments made by the former Ingraham administration.
"You couldn't even roll it back," Mr Smith added. "If you stopped everything, it would be more costly and would put a brake on what little growth there is.
"There's going to be no quick turnaround, as the world economy is still sluggish. By and large we have dug a hole for ourselves."
The former finance minister and Central Bank governor told Tribune Business that it was "a fair assessment" to argue that the Bahamas' fiscal predicament was due more to spending increases, particularly on the Government's recurrent or fixed costs, as opposed to the revenue side of the equation.
"In the last year or so we seemingly outspent the fall off in revenues, and from a policy perspective we should have been holding back when we realised we were not emerging from recession, at least not at the pace the US was," Mr Smith said.
A report by the United Nations' Economic Commission for Latin America and Caribbean (ECLAC), released on Friday, blamed the Bahamas' 2010-2011 nominal fiscal deficit of 4.7 per cent on spending increases that outstripped a 10 per cent rise in revenues to a sum equivalent to 17.7 per cent of GDP.
"The improved revenue was offset by a substantial nominal rise in expenditure to 22.9 per cent of GDP," the ECLAC report noted.
"Current expenditure reflected a sharp increase in payments for goods and services, and higher debt interest payments as government borrowing mounted. Growth in capital expenditure more than doubled with major investments in road infrastructure and in the airport expansion project."
Mr Smith, meanwhile, told Tribune Business that the Bahamas effectively needed an 'out of the box' game changer, something not associated with its traditional industries, to reverse the decline.
"We need some kind of external something we didn't plan for to get us quickly out of this," he added. "The things that we can predict, nothing seems to give us the sufficient impetus that we need in the short-medium term.
"We're beginning to look more and more like the rest of the Caribbean," Mr Smith told Tribune Business, referring to the likes of Barbados, Jamaica and St Lucia, all with debt-to-GDP ratios of around - or above - 100 per cent.
"We've been trying to pull ourselves so hard out of the Third World, but seem to have pushed ourselves further in. It's really going to take a combined effort - the labour has got to become more productive, the investment support machinery has got to be more efficient. We've simply got to work a lot harder as a country. It's not business as usual."
The bulk of Bahamian GDP was derived from tourist spending, but Mr Smith questioned whether US visitors - who still account for over 80 per cent of stopovers - would return to pre-recession spending levels even if there was recovery at home.
"We don't have the level of tourist expenditure needed to support increased GDP growth," he added. "To the extent that we are using subsidies to the tourism sector in terms of assisting the hotel industry, the likes of Companion Fly Free, we are actually getting less spending per tourist dollar, as we are actually paying to get them here. We're not getting the same bang for the buck."
The authors of the IMF paper urged the Bahamas and others above the 55 per cent debt-to-GDP mark to "adopt policies that do not impede growth" by setting the ratio on a downward trend.
Acknowledging that it was difficult for the Caribbean to embark on fiscal consolidation, given the recession's hangover and high unemployment levels, the IMF paper urged governments to combine with the private sector to "present more innovative ideas, and rehash some of the current policies for the region:".
The authors, for instance, called for "greater progress" in sectors such as information technology and renewable energy.