By CELESTE NIXON
Tribune Staff Reporter
THE opposition Free National Movement announced its shadow cabinet over the weekend, with party leader Dr Hubert Minnis taking responsibility for Health and National Security.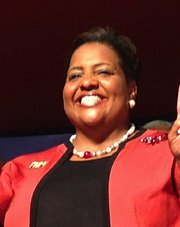 Deputy leader Loretta Butler-Turner will be the shadow minister of Social Services and National Insurance, while Central Grand Bahama MP Neko Grant will take shadow responsibility for Works and Urban Development.
Senator Desmond Bannister will be shadow minister of Education, Science and Technology, while Senator Zhivargo Laing will be shadow minister of Finance and Financial Services.
South Abaco MP Edison Key will be shadow minister of Agriculture, Marine Resources and Local Government, while St Anne's MP Hubert Chipman will be shadow minister of Foreign Affairs and Immigration.
The other appointments include:
East Grand Bahama MP Peter Turnquest - shadow minister of Grand Bahama

Montagu MP Richard Lightbourne - shadow Attorney General and minister of Legal Affairs

North Eleuthera MP Theo Neilly - shadow minister of Tourism, Transport and Aviation

Senator Kwasi Thompson - shadow minister of Environment and Housing

Senator Heather Hunt - shadow minister of Youth, Sports and Culture
It was also announced that Dr Minnis will be the spokesperson in the House of Assembly for Youth, Sports, Culture and Environment, while Mr Chipman will speak on Education Science and Technology, Mr Turnquest on Finance, and Mr Grant on Housing.
Dr Minnis said: "Each of these appointees will have primary responsibility to speak in the House of Assembly or the Senate on their areas of designated portfolio responsibility on behalf of Her Majesty's Loyal Opposition.
"The duty of a shadow minister is precisely that, to shadow and keep track of all the policy initiatives, actions and defaults of the substantive Cabinet minister, to advance alternative policy or principled arguments on behalf of the opposition and the Bahamian people, and to assist the leader of the opposition, as likely future Cabinet ministers, in charting the course towards victory in the next general elections."