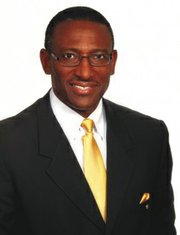 By GLADSTONE THURSTON
AGRICULTURE, Marine Resources and Local Government Minister V Alfred Gray took over as head of the Caribbean Regional Fisheries Mechanism with a charge from outgoing chairman Hilson N Baptiste of Antigua and Barbuda to keep the organisation relevant.
"CRFM is at a crossroads right now," said Mr Baptiste.
"It needs strong and decisive leadership if it is going to be relevant to the Caribbean."
In March, Bahamas director of the Department of Marine Resources, Michael Braynen, assumed leadership of the Caribbean Fisheries Forum, the body of technical experts which advises the Ministerial Council.
"The importance of CRFM to the Caribbean cannot be overstated," said Mr Baptiste, "since we see other persons other than Caribbean people - Japanese and Taiwanese - exploiting our waters because we ourselves cannot manage our own coasts as effectively as we ought to.
"We live in an area where coastlines represent billions of dollars that are not being realised . . . because of lack of resources and a lack of knowledge.
"Fishing and marine resources in this Caribbean are crucial to the survival of the region now and for years to come. But it depends on what we do today whether it would be sustainable or not."
The Sixth Meeting of the Ministerial Council of CRFM - ministers responsible for fisheries from CRFM countries - convened on Friday at SuperClubs Breezes to chart the course for management of the region's fisheries.
CRFM was founded on March 26, 2003, to promote and facilitate the utilisation, conservation and management of the region's fisheries and other aquatic resources for the economic and social benefit of the people of the region.
CRFM is an inter-governmental body whose members are: Anguilla, Antigua and Barbuda, the Bahamas, Barbados, Belize, Dominica, Grenada, Guyana, Haiti, Jamaica, Montserrat, St Kitts and Nevis, St Lucia, St Vincent and the Grenadines, Suriname, Trinidad and Tobago, and the Turks and Caicos.
Mr Gray, in his address, noted that fisheries contributes two per cent of the Bahamas' national GDP and employs more than 12,000 Bahamians.
About $75 million is earned each year from lobster exports as 90 per cent of the lobster harvested here is exported.
"While the Food and Agriculture Organisation estimates that 70 per cent of the world's fisheries resources are either in decline or over exploited," said Mr Gray, "we are very pleased to say the Bahamas still enjoys a relatively healthy and rich fishery resource.
"If we are to continue to benefit from the resources of the sea we have an imperative to do all in our power to protect our resources for the many livelihoods which depend on them."