By LAMECH JOHNSON
Tribune Staff Reporter
ljohnson@tribunemedia.net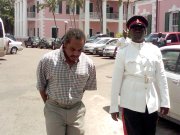 AN estranged husband who stabbed his wife 17 times was unanimously convicted of her attempted murder in Supreme Court yesterday.
Regarding the murder of 21-year-old David Rolle, however, only eight of 12 jurors found Michael Scott guilty of murdering the boyfriend of his wife.
Scott, 45, a Jamaican national who lives in Miami, Florida, came to Nassau to spend time with his family and make-up with his wife Sheneka Colebrooke on December 20, 2009.
During trial, the court heard that he had not expected to see his wife on the road in Palm Beach Street in the early hours of that day with 21-year-old David Rolle, her lover, because she had told him she was not involved with anyone.
It was claimed Scott tried to kill his estranged wife in the road - not far from the home where she lived with her mother.
He stabbed Rolle, causing his death, then repeatedly stabbed his wife, the court heard during trial.
Yesterday's guilty verdict, while 8-4 for guilty Justice Jon Isaacs said, was not an acceptable one by law as a conviction on the capital offence had to be unanimous.
He informed prosecutor Darnell Dorsette of this and she in response, asked the court if a verdict had been considered on the lesser charge of manslaughter by provocation.
However, the jurors said they did not arrive at a verdict on the third option given to them by the judge when they were excused to deliberate at 2pm yesterday.
Justice Isaacs asked if they were prepared to deliberate on the lesser charge.
However, defending attorney Murrio Ducille, objected to the consideration and was prepared to have closed discussions regarding the outcome of a previous case that found itself in a similar position with the jury being directed to consider a lesser charge after giving a verdict.
The judge agreed and allowed the murder verdict, though unacceptable for a conviction by law, to stand.
Justice Isaacs was prepared to sentence Brown on the attempted murder conviction.
However, Mr Ducille asked that a probation report be prepared with respect to his client, saying that his client had been in the Bahamas for years and had established connections with residents.
Scott's sentencing was put down to August 16 when a probation report will precede his punishment.
He was remanded to Her Majesty's Prison until that time.