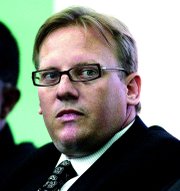 By NATARIO McKENZIE
Tribune Business Reporter
nmckenzie@tribunemedia.net
MINISTER of Financial Services Ryan Pinder said yesterday that the Bahamas was enhancing its preparations for the implementation of the Foreign Account Tax Compliance Act (FATCA), telling Tribune Business his ministry was seriously committed to ensuring that local financial institutions were ready.
FATCA, which was brought into law in March 2010, is a set of rules set out by the US Internal Revenue Service (IRS), designed specifically to limit tax evasion by US persons living abroad. Compliance with FATCA will include entering into a Foreign Financial Institution (FFI) agreement with the IRS, if the business concludes that it needs to become a participating FFI. Under FATCA, US taxpayers holding financial assets outside the US must report those assets to the Internal Revenue Service (IRS) or face penalties. FATCA will also require foreign financial institutions to report directly to the IRS certain information about financial accounts held by US taxpayers, or by foreign entities in which US taxpayers hold a substantial ownership interest. FATCA's demands are thus likely to impose extra demands on all Bahamas-based financial institutions in terms of resources and time needed to do the extra due diligence, resulting in them incurring increased costs.
With FATCA's January 1, 2013 deadline looming Minister Pinder said that his ministry was taking the matter very seriously. Mr Pinder said: "I take the issue of FATCA very seriously and have personal appreciation for the issue having practiced in US tax law before becoming the Minister of Financial Services. In my capacity as Minister of Financial Services I have solicited preliminary industry feedback through discussions with BFSB and likewise we as a country are enhancing our preparations. FATCA is unique in that it is a US domestic law that affects private financial institutions, however, as a country, and the Ministry of Financial Services is committed to preparations and to the extent possible, providing input into complying with the requirements."
Apart from changing procedures to deal with new clients, FATCA will force all Bahamian financial institutions to drill deep down into all accounts, investment funds and structures they oversee and manage, in a bid to detect whether there is even the smallest trace of US beneficial ownership.