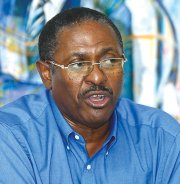 By DANA SMITH
dsmith@tribunemedia.net
PLP chairman Bradley Roberts has rejected the opposition's claim that the government is firing Urban Renewal employees, explaining that their contracts are merely not being renewed.
The FNM released a statement on Wednesday claiming the government is set to "terminate" more than 20 staff from various Urban Renewal centres by the end of the month.
Mr Roberts criticised the statement, calling it "nonsensical", and contended that no one is getting fired.
"First of all the PLP isn't firing anybody. It's a blatant lie," he said.
"My understanding is - from what I read in the newspaper, according to the deputy prime minister - some people on contract will expire at the end of the month.
"If your contract expires, how could anyone say with any honesty, with any grain of honesty, that somebody's being fired?"
Mr Roberts continued: "It's completely nonsensical. I need not point out what happened under their watch. When people's contract expired, that was the end of it."
The FNM's statement claimed the party was "reliably informed" of an impending mass firing of 22 employees, inclusive of managers and facilitators.
"This will have a devastating impact on many hard working Bahamians and their families," the statement read.
The FNM noted the PLP claims to put Bahamians first, but said such an action would be a clear demonstration they are prepared to throw Bahamians "on to the unemployment line".
The opposition party said: "This naked and shameless act of victimisation which the PLP government is set to engage will be protested and resisted by the FNM.
"The FNM has annually renewed all Urban Renewal staff since 2007 without regard to political affiliation.
"The Free National Movement cries shame on the Christie administration which says that it believes in Bahamians, but in fact only truly cares about PLP Bahamians."