By BRENT STUBBS
Senior Sports Reporter
bstubbs@tribunemedia.net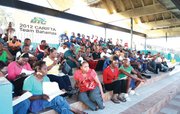 HEAD coach Dianne Woodside said she's confident that this year's Carifta team will perform exceptionally well in Hamilton, Bermuda, over the Easter holiday weekend.
The Bahamas Association of Athletic Associations (BAAA) ratified a full 70-member team that is expected to compete during the 41st version of the games - the top track and field competition in the Caribbean. "Very strong, very strong," were her first words in assessing the team.
Last night, Team Bahamas held its first meeting at Thomas A Robinson Track and Field Stadium. "We had about 85 per cent of the athletes who made the qualifying standards, which is an average of third place from the last games. So it's a very strong team."
The senior boys, according to Woodside, seemed to be the strength with 23 outright qualifiers. While the BAAA selected the maximum of 18 athletes, they used the extra four spots awarded to each team to make up a total of 22 competitors for that division. "It's a good indication of what we expect for them to do," Woodside said.
And she's not counting out the under-20 girls' division, even though there were just nine automatic qualifiers. She noted that "they are very strong as well with the best sprinters and quarter-milers" on the squad.
"I think this is a very strong team, well-rounded, compared to previous years," she said. "We have most of the athletes coming back from last year's team, so again, they are going to make us very strong."
In Montego Bay, Jamaica, last year, the Bahamas finished fourth in the gold rush and third in the overall medal count. Of course, Jamaica dominated at home with the most gold medals and most medals accumulated.
"I think this year we should really be able to give Jamaica a run for their money," Woodside said. "We know it's going to be difficult, but they will know that we are going to be right there with them."
While she has opted not to make any "predictions," Woodside said she knows that the team will do better than they have done in recent times and "will definitely bring home a lot of gold and medals in general."
"We are going to go there and do what we have to do. The coaching staff is going to make sure that the athletes are kept focused and allow them to compete to the best of their ability. Once they do that, they should compete very well."
Woodside said she only wishes that corporate Bahamas and the Bahamian public on the whole will throw their support behind the athletes because "they are doing some positive things."
"There are 70 kids representing the Bahamas from New Providence, Grand Bahama and Eleuthera. So we just want the Bahamas to give us your support, either financially or morally, even if you can't go with us to Bermuda."
Persons interested in making a contribution or even thinking about traveling with the team are urged to contact the BAAA office as soon as possible.