By DANA SMITH
dsmith@tribunemedia.net
AFTER stating that they would put the issue of marital rape legislation "to the people", the DNA has now taken a stand on the matter. It has proposed amendments to the existing law on sexual assault by a spouse.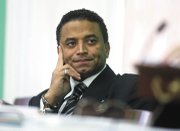 After hosting a focus group on the legislation at the British Colonial Hilton yesterday afternoon, DNA leader Branville McCartney issued a statement outlining the party's new proposal.
"As a result of this focus group, the DNA government proposes that we do have the laws in place that will reflect the desired result by virtue of section 15 of the Sexual Offences Act," he said.
"We believe that the Act and section 15, if amended properly, can get the desired results... and more prosecutions of women being abused. That is the DNA's position and that is the position we will take once we become the government."
Referring to last week's Tribune article, Mr McCartney also stated: "That is not a 'U-turn' from what is said previously."
Section 15 of the Sexual Offence Act outlines the conditions necessary for a person to be found guilty of sexual assault by a spouse.
The DNA proposes to add the following conditions to the act: "A person may be found guilty where there has been application for a protection order or one has been made, where the parties have been living separately - even if it's in the same structure, or if there is any violence or force used to obtain intercourse."
They will also amend section 111 of the Penal Code which outlines the conditions for which use of force against a spouse is justifiable.
"We believe in the protection of women, we believe that women ought to have all the protections afforded to them under the law," Mr McCartney said. "We don't believe that a man should rape (or) abuse in any way a woman, but we also believe in the sanctity of marriage."
He added: "We do not agree with the proposed position that has been abandoned by the FNM."
The FNM's proposed Marital Rape Bill would have made spousal rape a crime.
Current law, section 3 of the Sexual Offences Act, defines rape as having sexual intercourse with another person who is not his spouse without the consent of that other person.
Mt Moriah candidate Wayne Munroe explained to the press that amending section 3 to establish spousal rape as a crime would not be more effective, in terms of conviction rates, than amending section 15.
He explained that persons are more likely to be found guilty of sexually assaulting their spouse as opposed to raping their spouse.
He pointed to various laws in the United States and England where conviction rates for spousal sexual assault are "much higher" than conviction rates for spousal rape.
"We're more concerned with actual protection. You can call it what you will, we want people who abuse women to be convicted in high numbers and we challenge anyone to suggest the court removing those five words (who is not his spouse) will result in that," Mr Munroe said. "It will result in some people feeling good, but it will not result in the protection of women."
He added: "If you now get punishment for all of that, what difference does it make that it's done by section 15 - to which nobody has objection to, as opposed to section 3 - that you have a big backlash from a lot of people about. We can do something practical and amend section 15, which no one has a problem with... get a much higher rate of conviction (and) a much higher punishment rate for section 15 than section 3."
Speaking on The Tribune's previous articles concerning Mr McCartney's stance on marital rape, he called the headlines "misleading".
"It gave an impression that the DNA, and namely Branville McCartney, condones rape in marriages. That is far from the truth. We want to protect women's rights, but at the same time we want to protect the sanctity of marriage. I hope that is clear, especially to The Tribune," he said. "The Tribune also said there was a 'U-turn', again they were wrong. It was false and it was misleading, and I would ask all media houses to act responsibly in the way they go about things."