By KHRISNA VIRGIL
kvirgil@tribunemedia.net
SIDNEY Collie's position that only he is qualified to speak for Mayaguana residents sparked a heated response from MICAL MP V Alfred Gray in the House of Assembly yesterday.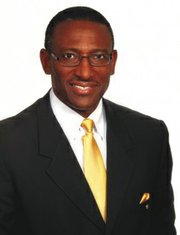 Mr Gray, who insisted that the PLP will win the seat in the 2012 general election, was rebutting Mr Collie's address to parliamentarians as they debated the Mayaguana Bill.
While making his contribution to the discussion, Mr Collie said: "I had a good laugh when I heard others from the side opposite speak for and on behalf of Mayaguana. None of them over there are qualified to speak for Mayaguana, no not one."
Mr Collie also criticised Senator Allison Maynard-Gibson for lobbying for the needs of residents, while neglecting to even visit that island.
"From what I am told, she has never put her foot on Mayaguana soil. When it comes to things Mayaguana, she should keep her mouth shut. She should talk what she knows, not what someone else tells her. I am the only person in this chamber and the other chamber, qualified to speak for Mayaguana. Not Senator Maynard-Gibson, not the Rt Hon Leader of the PLP, and not the member for MICAL," he said.
Mr Collie noted that he was well rooted in the island, having spent his childhood there.
Branding Mr Collie's comments as shameful, Mr Gray questioned how the MP could "brag about his Mayaguananess" while the FNM represented the seat from 1992 to 2002.
He said: "For 10 years, he was in this place and never called Mayaguana's name. Even the things I asked for about Mayaguana, he never supported me. But because now he's running for Mayaguana, he wants Mayaguana to be hoodwinked and bamboozled that he so cares for them."
Mr Gray also recounted his own long-standing career as a civil servant in Acklins, his birthplace, a course, according to him, that Mr Collie could not boast of.
"He never went back to those people, out of the belly from which he came. And (now he) comes in here talking about how much he cares, Mayaguana knows better and I wouldn't talk about Acklins and Crooked Island because they don't know him, they don't know him at all."
Mr Gray said the government has for years neglected to develop Mayaguana, leaving it "like Columbus did" without proper roads or good infrastructure for water.