By DENISE MAYCOCK
Tribune Freeport Reporter
dmaycock@ribunemedia.net
FREEPORT - Following a two-day adjournment, the murder trial of Samiko Rigby is expected to resume today.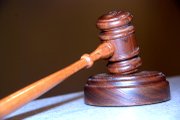 The trial was adjourned on Friday for a voir dire hearing, which is conducted in the absence of the jury.
Rigby, who is represented by Carlson Shurland, is on trial for murder, armed robbery and burglary.
It is alleged that in the early morning hours of January 7, 2009, the accused was one of three men who shot 32-year-old Erison Tanelus at his apartment in Hepburn Town, Eight Mile Rock.
According to evidence given at the trial, at around 2am three gunmen forced their way into Apt 5 at Sam Rolle's Apartment.
They forced open an upstairs bedroom, where the victim, his wife, Frantzcia, and their young son were.
Tanelus was shot in the head. His wife, who was nine months pregnant at the time, was beaten by the gunmen, who demanded that she give them "the money".
The prosecution has called a number of witnesses, including lead investigator Det Sgt 772 Lorenzo Johnson.
On arriving at the at the crime scene around 3.30am, Johnson testified that the front door lock was damaged and a spent .9mm casing was on the ground outside.
He was led inside the apartment, and to an upstairs bedroom where the door lock was also damaged.
On the ground lay the body of a black man clad in red-shirt and red plaid boxers with a gunshot wound to the head.
When the trial resumes, Johnson is expected to retake the witness stand.
Senior Justice Hartman Longley is presiding over the case, which is before a jury of six men and six women. Prosecutor Erica Kemp of the Attorney General's Office is appearing on behalf of the Crown.