By DENISE MAYCOCK
Tribune Freeport Reporter
dmaycock@tribunemedia.net
FREEPORT - Samiko Rigby was discharged of murder, armed robbery, and burglary in the Supreme Court on Tuesday.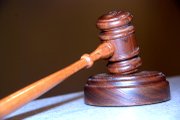 Senior Justice Hartman Longley told the jury that there was no evidence against Rigby, and directed them to return a not guilty verdict on all three charges.
Rigby, 24, of Jones Town, Eight Mile Rock, was on trial for the murder of 32-year-old Erison Tanelus on January 7, 2009 at Hepburn Town, Eight Mile Rock.
Tanelus was found shot dead on the floor in his bedroom. The Prosecution alleged that sometime around 2am, three masked gunmen broke into the victim's apartment and forced open the lock to an upstairs bedroom, where the victim, his wife, and young son were sleeping.
Frantzcia St Louis Tanelus told police that the shooter spoke in Creole and demanded money. He hit her in the face with his fist and threatened to kill her and their young son if she did not give them the money.
Mrs Tanelus, who was nine months pregnant at the time, said the gunmen ransacked the bedroom. The gunmen took $410 and two cellular phones.
The trial began last Tuesday before a jury of six men and six women. On Thursday, the case was adjourned for a voir dire hearing - held without the jury - to examine the police statement.
At about 11:30am on Tuesday when the trial was resumed, Prosecutor Erica Kemp informed Senior Justice Longley that the Crown did not wish to proceed with the matter against Rigby.
"The Crown has no further evidence in the matter against the accused man," the judge told jurors.
"I find that there is no evidence against Mr Rigby and I discharge him of this indictment. But I have to direct you, as a matter of law, to return a verdict of not guilty of the offences charged against him," he said.
On the judges' instructions, the jury foreman brought back not guilty verdicts of 12-0 on the charges of murder, armed robbery and burglary.
Rigby showed no emotion.
After the verdicts were read, The Tribune spoke with Rigby's grandmother who was happy with the outcome.
Attorney Carlson Shurland said there really was no evidence against his client.
He stated that the prosecution was unable to convince the judge that the statements taken by police from Ken Samuels, also known as Luther Samuels, was given voluntarily.
"It is because of that - which is the most significant issue - that they found it best to withdraw the case," he said.
Even though Rigby has been discharged in the matter, he has other matters pending against him in court.
"At least he does not have that murder over his head anymore," Mr Shurland said. "But he has quite an uphill battle with other charges against him, but I am not his lawyer for those charges," he said.