By KHRISNA VIRGIL
kvirgil@tribunemedia.net
A REASSURANCE from City Market owner Mark Finlayson to employees that their pension fund remains intact has been dismissed until there is "tangible" proof signaling "all is well", Whanslaw Turnquest, inventory auditor said yesterday.
Mr Finlayson told The Tribune on Wednesday: "In no way, shape or form, has the pension been in danger, because of the value of the building and what is owed to plan beneficiaries. Sell the building and it easily covers people's retirement savings."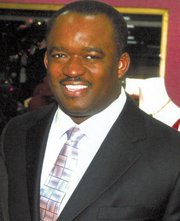 His comments came after workers said they were greatly disappointed that no company executive informed them of an impending closure.
However, Mr Turnquest, who also represents employees said they have been advised otherwise.
According to Mr Turnquest, employees have now learned that owners used money from the pension fund to purchase land and store equipment for City Market's West Bay Street location.
"At present, we have determined that everything at the Cable Beach location is owned by the pension fund. This includes the five lots that the store is built on," he said.
"We also know that the City Market warehouse on East West Highway belongs to us. It was bought with pension fund money. They need to justify what he is saying with accounting documents."
When asked who on the executive team disclosed the information, Mr Turnquest would only admit that the person was very close to the Cable Beach stores' financing process.
The employees also agreed to elect a new board of trustees, Mr Turnquest said.
The decision came as employees felt the previous board had not done enough to ensure that no uncertainty surrounded the company's fate.
On Wednesday night, 150 employees were present and 43 by proxy to vote on a new nine member board at the Central Church of Christ, Yellow Elder Gardens.
The new board, however, will have to wait for the release of a trust deed and the filing of legal action before they can be officially recognized to represent the employees.
Earlier in the week, Mr Turnquest demanded answers from company owners on the status of a pension fund valued at millions of dollars.
Referring to notes from a consolidated financial statement for the year ended June 28, 2000, Mr Turnquest said the fund was worth $21 million in 1999.
He said: "It has been said that our money isn't there, if not, why isn't it? In 1999, there was $21 million."
The Tribune later learned that the fund should be valued at more than $40 million given the more than 10 years since it was last reviewed.
Attorneys representing the line staff and management have also sent a court order to external auditors, KPMG to release all financial records from 1983 to 2007.