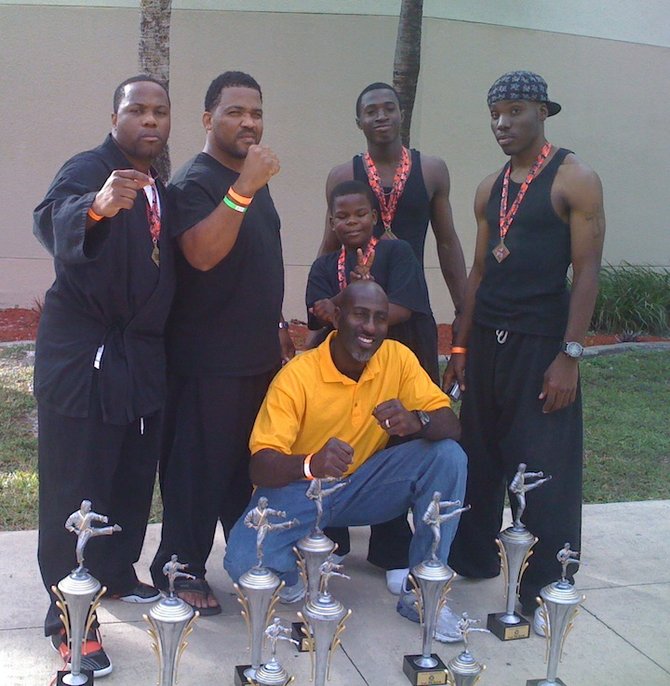 By BRENT STUBBS
Senior Sports Reporter
bstubbs@tribunemedia.net
IT'S going to the fourth version of the Young Champions Boys Club's Sports Blast Saturday as the various local martial arts schools come together to compete in the Open Karate Tournament. Scheduled for Bahamas Faith Ministries on Carmichael Road, the event is slated to begin at 9am and will show competitors in kata - hard and soft, point sparring, continuous fighting, extreme kata and grappling.
Organiser Corey 'DJ Counsellor' Rolle said the event is a tradition for the Young Boys Club and it will be family-oriented with special guest appearances from local gospel artists Regina Ward and Avery Fowler.
"We want to invite the public to come out and support our young. This initial (tournament) is to raise money for the Young Champions Boys Club as they continue to represent the Bahamas on the international circuit," Rolle sad.
Since the inception of the tournament, Rolle said they have seen a drastic improvement, considering that local martial arts has a very large following but it just simply lacks "unity and that is something that we are gradually seeing coming together.
"So as we continue to have tournaments and the schools come out and reunite, we will definitely see the growth of martial arts here in the country.
"Once the students see the heads come together, it will trickle right down to them."
While martial arts is a good disciplinary sport, Rolle said the tournament provides the unique opportunity for the students to come out and display what they have been taught in a fierce but friendly environment.
Sensei Jason Basden said he's eager to get the event started because they will have some of the best local schools participating, including Lynden French, Master Brian Beckford, Ken Bazard and Ronald 'Smokey' Martin.
"In general, we are looking forward to a very competitive event on Saturday and we are looking forward to great sportsmanship in the spirit of love and unity," Basden said.
"We are also looking forward to good, clean judging and sportsmanship because over the years we have been stagnated in that area. We have had various meetings and discussions on how best we can resolve those areas. So we look forward to those areas being elevated."
John Francois, the Florida State 2010 champion, said all of their fighters will be prepared, especially for Martin's school.
"Smokey has said that none of our fighters will ever beat his fighters. So we are waiting on him this Saturday," said Basden.
Francois said the public can come out and see the competitors compete at a very high standard as they prepare for the Open Tournament to be held in Orlando, Florida, during the summer.