THE spirit of this column seems to be catching, as more and more Bahamians take to making lighthearted fun of our political actors.
Commenting on the ongoing "I was Sir Lynden's favourite" row, one Tribune reader said whoever wrote Dame Marguerite Pindling's attack on the Prime Minister could have at least bothered to make it sound personal.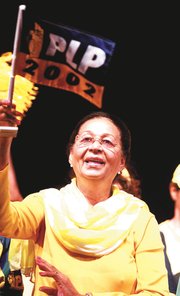 The reader noted that at one point, the Mother of the Nation referred to the late former prime minister not as her "beloved Lynden" or even as "my husband", but rather simply as "Pindling."
In any case, the amused commentator said, the PLP made a mess of the opportunity. "All they needed was for her to shed a few tears and maybe - just maybe - the PLP would win this election!"
Even the usually stoic Tommy Turnquest got in on the act this week.
Perry Christie is threatening a lawsuit over FNM suggestions about his relationship to an oil company, but according to Mr Turnquest the PLP leader must be planning to sue himself.
Mr Turnquest noted that whatever he says now, when first asked by reporters, Mr Christie admitted he provided consultancy services to Bahamas Petroleum Company at some point in the past.
He also added this timely observation: "It will be interesting to see if Mr Christie actually moves forward with legal action. It may well provide a long overdue dose of sunshine into Mr Christie and (PLP deputy leader Philip "Brave") Davis' affairs with BPC."