THE PLP came out the slight winner of The Tribune's exit poll at yesterday's advanced vote.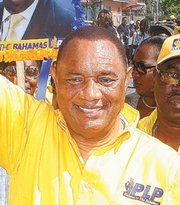 Of the nearly 8,000 voters eligible to cast their ballot yesterday, 72 identified themselves as PLPs and 55 as FNMs, with 31 saying they support the DNA.
The polling conducted took place outside of the Kendal GL Isaacs and the College of the Bahamas' stations over the span of four hours and is not equally representative in the numbers of persons interviewed per constituency.
Of the six constituencies that were highlighted in this straw poll, the PLP were victorious in five: namely Elizabeth, Yamacraw, Bamboo Town, Mt Moriah, and Tall Pines. Carmichael was the only seat that they lost to the FNM in the advance poll exit numbers.
In Elizabeth the breakdown appears as follows: 27 in favour of the PLP's Ryan Pinder, 20 for the FNM's Dr Duane Sands, and nine for the DNA's Charlene Paul.
In Yamacraw, the PLP's candidate Melanie Griffin secured seven votes, six to the FNM's Dion Foulkes, and four for the DNA's Maurice Smith.
In Bamboo Town there is a virtual dead-heat with two votes dividing first from third, with the PLP's Renward Wells in the lead with 10 votes, to the FNM's Cassius Stuart with nine, and eight for the DNA's leader Branville McCartney.
Mount Moriah has the PLP's candidate Arnold Forbes out in the lead with 18 voters polling having supported him, to the FNM's Tommy Turnquest's 11. The DNA's candidate, Wayne Munroe had eight.
In Carmichael, the PLP's Dr Daniel Johnson polled with four votes to the FNM's Darron Cash with six, and two to the DNA's Theofanis Cochinamogulous' two.
In Tall Pines, the PLP's Leslie Miller polled six voters, compared to the FNM's Karen Butler with three votes.
Readers should bear in mind that yesterday's advance polling is representative of only those persons who were scheduled to either work, travel, or otherwise were unable to vote on the May 7 general election, and may not be a true representation of what could be expected at the polls.
While not all persons interviewed would come out and say who they voted for, when asked if they approved of the direction the country was headed said "hell no."
One voter said despite voting for the FNM and the PLP in previous elections, the new party has got his support.
"I think we are in for a few surprises," he said.