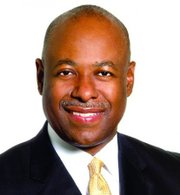 By NATARIO McKENZIE
Tribune Business Reporter
nmckenzie@tribunemedia.net
NEWLY-appointed tourism minister Obie Wilchcombe said yesterday the Government plans to meet with Bay Streets merchants to discuss how to increase visitor spend by making downtown Nassau more exciting, with one merchant telling Tribune Business cruise passengers were spending very little money.
According to Perfume Shop owner, Timothy Lightbourne, the cruise visitors who traffic Bay Street are not spending any money. He explained: "The Bahamian part of business is very hopeful. It is the tourist part that isn't.
"The tourists don't have any money. You have doubled the amount of cruises available in the last 10 years. There are not enough people to fill them up, so the rates have gone down. You've encouraged a different type of person to cruise, and they don't have any money. It's all pre-paid, kind of like Sandals and Breezes on a boat."
Mr Lightbourne added: "Everything is paid for ahead of time, and they just come with a few dollars in their pockets. On top of that there are floating shopping malls now, casinos and hotels. The Caribbean made a mistake 20 years ago when they didn't limit what cruise ships could do; now the cruise ships own the towns. In Antigua and other places like that, they actually own shopping areas."
Speaking on the issue, Mr Wilchcombe said: "We will always have that problem because the cruise spend has always been low in the Bahamas. The problem is many of the visitors come here on third stop, and not a first stop, when they are likely to spend that hard currency. So what we have to do is work heavily on our airlift.
"Our job is to get more airlift here so we could have the good balance. We want the cruise passengers because they impact our cab drivers, bus drivers and others, but what we want to do is get the number up on Bay Street.
"Bay Street needs some work, so we are going to be meeting with the Bay Street merchants to talk about what we need to do to make Bay Street exciting, to draw people to Bay Street and to maintain - as well as sustain - the excitement that will cause people to want to spend more money."
Looking ahead to Mother's Day, Mr Lightbourne said he expected business to pick up on Friday and Saturday. He added: "The Bahamians won't come out until Friday and Saturday; last minute. Mother's Day, since my life in the business, has gone more and more into taking Mum out for lunch and going to church with her.
"The buying of lots of things for her has definitely waned over the years, but we will have a good Mother's Day business because the Bahamians have always been wonderfully faithful to us."
Collette McKenzie, manager of Brass and Leather on Bay and Charlotte Street, told Tribune Business that sales leading up to Mother's Day were relatively moderate. She said: "There hasn't been any huge spike. There's no big rush right now."
Charmaine Daley, manager at John's Department Store on Carmichael Road, told Tribune Business that she expected trade to pick up today and, particularly, on Saturday.
She said: "We are expecting heavy traffic on Friday and Saturday, as people usually wait until the last minute. We started stocking up our store since early this week."