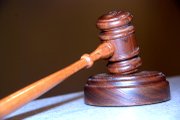 A MAN who had been arraigned with eight others in connection with last month's seizure of more than $400,000 worth of marijuana in Inagua was granted bail in the Supreme Court.
John Pintard, 52, appeared before Justice Bernard Turner seeking to be granted bail pending the outcome of his drug trial in Magistrate's Court.
It was alleged that between April 3 and 4, he conspired with eight other men to import and possess marijuana.
It was further alleged that the 52-year-old imported and possessed $459,000 worth of marijuana with the intent to supply.
When he was arraigned before Deputy Chief Magistrate Carolita Bethell in Court 8, Nassau Street on April 11, he denied the charges and pleaded not guilty.
Due to the nature of the charges, he was not eligible to be granted bail in the lower court.
However, in his appearance before Justice Turner on Wednesday, he was granted a $15,000 bond with conditions, including two suretors.