By LAMECH JOHNSON
Tribune Staff Reporter
ljohnson@tribunemedia.net
HISTORY was made in the courts after a cancer sufferer who sold cocaine to pay for his surgery was resentenced to a fraction of his four-year jail term for drug possession.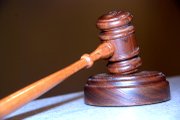 Deputy Chief Magistrate Carolita Bethell, on instructions from the Court of Appeal, ruled that Anthony Armbrister, 46, would serve eight months in prison for the $2,000 worth of cocaine he was convicted of possessing with intent to supply in November 2011 instead of a mandatory minimum of four years.
However, because eight months in prison is equal to six months of a calendar year, and because Armbrister has already served the new sentence while on remand, he was released with a condition that he does not commit an offence within two years, or he would face going to jail for a year.
Armbrister and Andrew Davis, who was also convicted for possession of dangerous drugs with intent to supply, were the first convicts to appeal the new mandatory four-year prison sentence for that charge and conviction. On May 4 the Court of Appeal quashed their sentences.
Justices Anita Allen, Christopher Blackman, and Abdulai Conteh all agreed that the minimum four year tariffs handed to Armbrister and Davis, though lawful, were excessive due to the amount of drugs involved and other surrounding circumstances.
Yesterday, the magistrate went on to give a new sentence, although she was not initially keen on letting Armbrister go for his own health and benefit after hearing the details surrounding his illness and how it led to his arrest.
During attorney Jomo Campbell's submission to the court, it was revealed that in late September Dr Robin Roberts, from Princess Margaret Hospital, diagnosed Armbrister with penile cancer after a biopsy on a tissue sample.
Armbrister admitted in court yesterday that he started selling cocaine in the early part of November to pay for surgery scheduled for November 16.
He was arrested and questioned by police on November 8 and arraigned in court three days later where he pleaded guilty to possessing 51 grammes of cocaine with intent to supply.
He told the magistrate that he didn't get the surgery because there were no hospital beds available at the time he went from the prison to the hospital.
Medical documents submitted to the court yesterday indicated that his surgery, tests and treatment all amounted to $6,400. A payment plan of $50 per week was set up for Mr Armbrister to pay off the debt.
However, the carpenter was unemployed because his condition had slowed down his performance and he did not seek his family's help which led to his conviction, the court heard.
After hearing all of this, and discovering that the Treasury was paying for his tests and medical treatment during his time behind bars, the magistrate asked Armbrister: "Are you sure you want to leave?"
"According to him, he started selling drugs to pay for his operation. Went up to prison and as a ward of the state, he is being taken care of. If you go off, you will still have a large debt."
Mr Campbell interjected that his client had the full support of his family now concerning the debt and also that "he's learned his lesson having been in prison for some six months and was extremely remorseful for what he did."
After repeatedly asking the attorney and his client if they were sure, and the prosecutor not having anything to add, she released him on probation for two years on the condition that he stay out of trouble.
Andrew Davis also received a lesser sentence yesterday after his attorney, Murrio Ducille submitted that the 35-year-old should be discharged and was over punished.
In December, Davis pleaded guilty to possessing six ounces of marijuana valued at $300. He claimed he was going to smoke it with his friends but admitted that he was supplying it to his friend.
Yesterday, Davis was resentenced to a year in prison. Having served a significant fraction of the sentence which is converted from the normal calendar year, the magistrate noted that Davis would be released as early as July 8, "on good behaviour."
Armbrister's wife, Patricia, said she was relieved and happy about the outcome because it was a a "long, long battle but I could say to God be the glory."
Mr Campbell said yesterday's ruling set a precedent for a number of convicts who believed their sentences were not proportionate to the amount of drugs for which they were convicted.
"There are a lot of them who feel that the sentences were disproportionate and we will address those issues on a case by case basis. As you would know, the mandatory minimum is not only related to drug offences but firearm offences as well. So there are quite a number of persons who are eagerly awaiting today's decision."