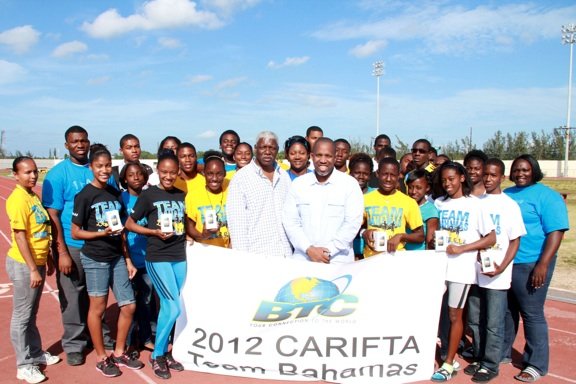 BTC PRESENTED the country's supercharged athletes who came 2nd out of 27 countries in the recent 41st LIME CARIFTA championships in Bermuda with 70 Samsung Galaxy Y cell phones on their return.
It was another big win for a successful performance.
The BTC CARIFTA team came second overall behind Jamaica with a total of 40 medals, including 14 gold and 13 earned in a single day.
Athletes from 27 countries competed in the track and field events that drew some 600 officials, dignitaries and team members to Devonshire, Bermuda over the Easter weekend. It was the first time in a long time The Bahamas put in such a strong showing at the annual CARIFTA Games.
"CARIFTA is the place where young Caribbean athletic stars are born and it is an opportunity for them to perform on a world stage," said David Shaw, BTC chairman.
On the team's return home and as a show of support for the outstanding performances at the games former Prime Minister Hubert Ingraham hosted BTC Team CARIFTA to lunch at Atlantis. It was during that lunch that Marlon Johnson, BTC VP Brand & Communications, announced that BTC, CARIFTA platinum sponsor, would "up the ante" by providing Android phones to all 70 members of the team. The presentation was made at the stadium in Nassau.
"BTC is committed to the development of our young people through sports. Our sponsorship of the track team and the presentation of the phones here today speaks to the level of our commitment," said Johnson. "And while we are happy to reward our junior athletes for their hard work and achievements, we are also pleased to equip them with the very latest technology."
Also on hand to thank BTC for its donation was BAAA's President Mike Sands. BTC has committed $100,000 to the BAAA's in sponsorship to assist with four major sporting events. The CARIFTA Track and Field Championships was the first and benefited from a $25,000 donation.