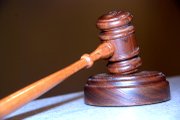 By LAMECH JOHNSON
Tribune Staff Reporter
ljohnson@tribunemedia.net
A WITNESS told a Supreme Court jury yesterday that he neither saw his friend with a knife, nor did his friend stab another man to death.
Devaughn Richardson, 20, told the court that 19-year-old Cordero Wallace, of Kennedy sub-division, accused of murdering Raoul Butler, was neither in possession of a knife nor had he stabbed the deceased on the day Butler died.
Richardson said he, Wallace and another friend named Mark were walking on Wulff Road at 3.30pm on November 27, 2009, when they left the main road, moving onto Verbena Avenue.
"Cordero said he was going to see a friend so me and Mark stayed on the corner while he continued walking," the court heard.
The witness then said that a male on a bicycle passed them going in Wallace's direction and when he got to their friend, snatched the chain from around Wallace's neck.
He said the two began scuffling, adding: "Cordero did not have a knife or stab anyone."
He told the court that a group of "guys" got into the scuffle.
"When this was happening, a man about six foot tall, wearing blue jeans, blue shirt and a hat walked into the crowd and stabbed someone," he said.
He and his friend Mark started throwing rocks until rocks were thrown back. Wallace managed to get away from the crowd and all three left the area running before going to a park to play basketball, the court heard.
Under cross-examination, prosecutor Ambrose Armbrister asked the witness if he had recited that testimony from a paper because it sounded like he had.
He said: "No, sir."
Mr Armbrister asked Richardson when had he found out that someone had been stabbed in the scuffle.
The witness said he had seen the stabbing, but found out who was stabbed later that evening. Mr Armbrister asked if this was the first time he was telling this story to anyone, and the witness replied: "Yes, sir."
The prosecutor put to him that he could not have seen the stabbing because there were people in front of him.
"I did not see him with a knife or stab anyone," said Richardson.
The prosecutor repeated the suggestion for the witness's understanding. Richardson disagreed with the suggestion.
Murrio Ducille was defending. The trial was to resume today at 10am. Senior Justice Jon Isaacs is presiding.