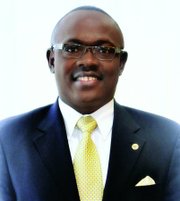 By NATARIO McKENZIE
Tribune Business Reporter
nmckenzie@tribunemedia.net
SMALL business loans represented 87 per cent of the US Export-Import Bank's $33 billion credit portfolio last year, a senior US embassy official said yesterday, urging Bahamian companies to take advantage of its programmes to access additional capital for their enterprises.
Speaking on two upcoming Bahamas seminars, Alexander Sokoloff, chief political and economic chief at the US Embassy in Nassau, said: "Our support for the two events is part of the US government's global business strategy, known as the National Export Initiative (NEI), which was launched in 2010.
"Eximbank has been know traditionally for financing major deals, such as aircraft purchases, power plants and that sort of thing, but since the launch of NEI it has been looking at ways to expand these products to smaller enterprises."
Mr Sokoloff added: "We think this will be very advantageous to Bahamian companies. Almost 80 per cent of the Bahamas' imports come from the US, so literally anything that is a US product you could look at Eximbank for financing.
"Last year, small business transactions represented 87 per cent of Eximbank's $33 billion in loans. We are actively encouraging businesses of every scale to take advantage of this opportunity."
The US Embassy in Nassau is co-sponsoring two 'International Trade and Financing Seminars' to be hosted by the Bahamas Chamber of Commerce and Employers Confederation (BCCEC) and the Grand Bahama Chamber of Commerce. The seminars will be held at the Sheraton Nassau Resort on Cable Beach in Nassau May 22-23 and the Pelican Bay Resort at Lucaya in Freeport May 24-25.
The US Eximbank facilitates loans to businesses to import US-made products through guarantees, which allow the buyer to obtain financing benefits with terms similar to those of US businesses.
Chester Cooper, chairman of the Bahamas Chamber of Commerce and Employers Confederation (BCCEC), said: "One of the main issues facing businesses in the Bahamas generally is the access to capital, and adequate funding to ensure that their business is appropriately capitalised.
"Therefore, we are extremely pleased to have the opportunity to partner with the US embassy and the Eximbank in this initiative. Particularly as it relates to SMEs in the Bahamas, the issue of capital and finding adequate funding is a key factor in determining whether a business succeeds or not.
"The Eximbank has some interest in this area in terms of what they have done in the past, with respect to SMEs, and we are hoping that this seminar would be able to provide information to the business community as to how they may go about the process of accessing this funding. It is billed as a convenient process, with a low threshold of documentation, especially for SMEs."