By ALISON LOWE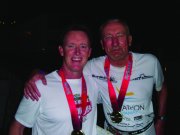 TWO BAHAMIANS competed in the Ironman triathlon on Saturday, with one becoming the oldest Bahamian to finish what is considered the world's most hardcore one-day endurance event.
Nassau optometrist Greg Lowe, 58, completed the 140.6 mile Memorial Hermann Ironman Texas in 15 hours and 29 minutes, while 52 year-old local dentist Mark Davies clocked in at an impressive 13 hours and three minutes.
The Ironman Triathlon series, which pits contestants against each other in a 2.4 mile swim, followed immediately by a 112-mile bike course, finishing with a 26.2 mile-run, is organised by the World Triathlon Corporation. It is considered the "holy grail" of triathlons and for many, endurance events in general.
So mythologized is the event that many who complete the Ironman go on to get the logo of the Ironman tattooed on their bodies as a sign of proof of membership of this exclusive "club".
On Saturday, 2,200 athletes rose in the small hours of the morning to get to the starting line prior to the 7am kick-off, which saw the massive group move in a thrashing wave across Lake Woodlands.
The 112 mile bike ride took athletes through downtown Woodlands, Texas, and through rolling hills in the farmland of east Texas. After dismounting their bikes, athletes then endured a full marathon, all in blistering 90-plus degree Fahrenheit temperatures.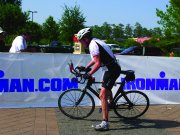 There is a time limit of 17 hours within which to complete the race (beginning at 7am and ending at midnight). The majority of participants raced from sunrise until late into the night on Saturday.
Mr Lowe, a long time veteran of numerous marathons in the Bahamas, UK and the US, who took up triathlon in 2007, said completing the event was a "bucket list" wish that he will now put aside to focus on shorter, faster events.
Davies, who had never completed a full marathon prior to winning his "Ironman" status, summed up the event in one word: "Brutal."