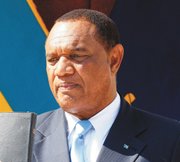 By AVA TURNQUEST
Tribune Staff Reporter
aturnquest@tribunemedia.net
THE government will move forward with its promised mortgage relief plan under "strict consultation", Prime Minister Perry Christie confirmed yesterday.
Mr Christie said his administration also plans to meet with Moody's to discuss the top Wall Street credit agency's scathing review of the programme.
"As a government we're moving forward and we're moving forward with the programme that we were elected upon," Mr Christie said.
"We've always indicated that our plan is well thought out, well considered, that we had consulted some bankers in The Bahamas on it, and other experts on it. As a government, everything will be done on strict consultation and to serve the best interest of the Bahamian people."
The leading Wall Street firm said the Christie administration's plan undermined efforts to rein in the $4.356 billion national debt, and warned that the scheme will likely cost Bahamian taxpayers $250 million to implement.
The mortgage relief plan seeks to strike an agreement with banks and institutional lenders to write off unpaid interest and fees for homeowners facing foreclosure in return for government guaranteed interest payments for five years, 2017. The proposal also includes working with banks and lenders to implement a 120-day moratorium on foreclosures and extend the loan repayment period under defaulting mortgages.
In his defence of the government's proposal, Minister of State for Finance Michael Halkitis said Moody's credit agency did not fully understand what the government intended to do, and had based their report on "erroneous" assumptions.
Referring to the US State Department's Crime and Safety Report at a special thanksgiving service yesterday, Mr Christie said the government must pay strict attention to external reports concerning the country. Drafted to assist American travellers and businesses, the annual report rated New Providence's criminal threat level as "critical" - and for the first time rated Grand Bahama's level as "high", putting the island on a par with the Dominican Republic.
Mr Christie said: "People are influenced by the reports, so clearly we have to be very concerned about it. Crime is a matter that we feel is a top priority, we indicated that the country was in crisis.
"You would recall during the campaign that we put up statistics and the former government thought it was harmful to the tourism product and so we agreed they would be withdrawn. Clearly we are dealing with an issue that is profoundly important to the way forward for our country that is why our government is resolute in our commitment to begin virtually immediately to launch a fight against crime."
Mr Christie said the government has already begun rolling out the infrastructure to launch key crime-reducing initiatives such as Urban Renewal 2.0 and national security reform.
Speaking at the service yesterday, Deputy Leader Philip Brave Davis reaffirmed the government's commitment to providing relief.
"It will be our mission that we keep our people first," Mr Davis, Minister of Works and Urban Development, said.
"Even if it means declining to deal those physical things, like infrastructure, but first the people, we move to relieve their suffering."