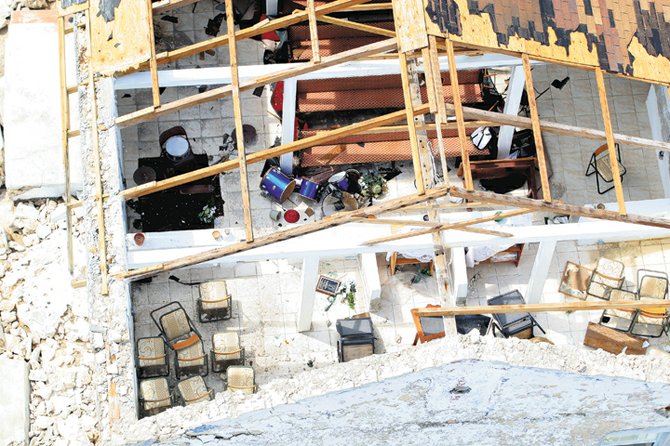 By AVA TURNQUEST
Tribune Staff Reporter
aturnquest@tribunemedia.net
A WARNING of severe thunderstorms and flooding has been issued as forecasters predict nine inches of torrential rain over the next two days.
The Bahamas Meteorology Department warned heavy rain showers and periodic thunderstorms will pick up tomorrow afternoon and last through Thursday and into Friday.
Forecasters say the weather will lead to flooding in low lying areas, mainly in the northwest and central Bahamas.
Underscoring the importance of remaining vigilant despite a projected below average season, Chief meteorologist Basil Dean explained that the country's geographical positioning engendered ideal conditions for hurricanes.
"We're right in the hurricane zone," Mr Dean said.
With less than two weeks before the official start of hurricane season, US emergency managers reflected on the destructive path of Hurricane Andrew in 1992 and its catastrophic development in Bahamian waters.
In a bid to chart the way forward in hurricane emergency management and disaster planning, participants at the annual Governor's Hurricane Conference in Fort Lauderdale reflected on the infamous category 5 hurricane and the resulting advancements to forecast systems.
"This is one of the reasons why during the hurricane season we put our residents on guard. We normally tend to get tropical cyclone development historically during the early part of the season, this tends to develop in Gulf of Mexico, Caribbean Sea, and far Western Atlantic," Mr Dean said.
"If you were to take note of the activities over the last couple of days, namely (Tropical Storm) Alberto in the far western Atlantic - it all lines up with that.
"Generally during the early part of the season these areas are more likely for tropical storm development."
Mr Dean said that storm activity shifts toward the eastern Atlantic as the season progresses, with hurricanes or cyclones developing off the African coast, and returns as the season comes to a close.
"Be on guard, be vigilant," he added.