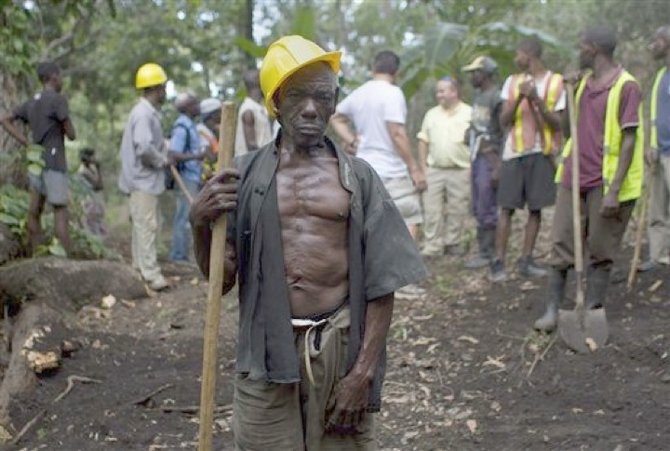 By SANCHESKA BROWN
Tribune Staff Reporter
sbrown@tribunemedia.net
HAITIANS living in the Bahamas are eager and preparing to go home after learning new mining laws will create thousands of jobs, according to the Haitian Ambassador.
After two mining companies discovered an estimated $20 billion in gold, copper and silver in Haiti's northeastern mountains, the government is now moving to draft legislation to ensure the impoverished nation reaps the benefits.
Antonio Rodrigue, Haitian Ambassador to the Bahamas, said the Haitians living in the Bahamas are excited to go home now that the economic situation looks like it is about to significantly improve.
"You have to know, they only leave because of the economic conditions.
"They do not have jobs and cannot take care of their families. Now they can.
"These mining laws will ensure Haitians reap the benefit. They will get jobs. They are preparing to leave. They may be living elsewhere but their heart and soul is always in Haiti," he said.
"They will also stop their migration. People cannot imagine what harm migration is doing to the country. We lose our resources when they leave. We lose our people and we lose the future of our country, the next generation.
"Right now they have so much hope things are going to turn around for them. Their economic situation will change and you will see a lot of them returning home."
Mr Rodrigue said specialists have attributed the 'gold rush' to the massive earthquake the country experienced in 2010. He said the quake caused plates to shift around and expose gold that scientists always knew was buried underground.
Three firms are considering mining in Haiti, but so far only SOMINE has full concessions to take the metals out of the mountains. Those permits, for 31 square miles, were negotiated in 1996 under President Rene Preval and require the firm to hire Haitians whenever possible.
In exchange for minimal permit fees, SOMINE committed to spend $2.25 million in the first two years. In addition, it will pay $1.8 million after a feasibility study, according to the contract.
This means Haitians should get $1 out of every $2 of profits, compared with about $1 out of $3 that most countries get from mining firms.
Mining laws in Haiti haven't been revised since 1976.