By NEIL HARTNELL
Tribune Business Editor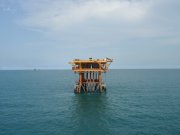 A BAHAMAS-based oil exploration company yesterday said it had "much better prospects" of striking oil in this nation's waters than Spanish oil giant Repsol did off Cuba, adding that its $50 million investment to-date had exceeded its licence requirements "by over 60 times".
Speaking to Tribune Business from the UK, Simon Potter, the Bahamas Petroleum Company's (BPC) chief executive, told this newspaper that Repsol's unsuccessful test well off Cuba would have no impact on his company's prospects of striking commercial, extractable quantities of oil in Bahamian waters.
"There's very little read across to our well at all," Mr Potter told Tribune Business of the implications of Repsol drilling a dry well. "It's a different geographical area, the rocks the Repsol guys are targeting.
"We are targeting in our area rocks we believe are much more prospective. They are deeper and thousands of years older."
Emphasising that the rock structures and depths that the Bahamas Petroleum Company was assessing were vastly different to those targeted by Repsol, Mr Potter likened what the company was looking for to 'containers'. The key, he explained, when it came to finding oil, was that the 'containers' were intact, and the rock 'seals' closing them were not broken.
"We hope the containers are of commercial size, and the structures we're looking at are completely different from theirs," Mr Potter added. "I think the Cubans and the Bahamians would have loved to see oil out there [at Repsol's well], but I think the seal is the most unreliable part of their prospects."
He added that in the Bahamas Petroleum Company's assessment, it was likely that the 'seal' - rocks closing in any oil deposits - at Repsol's test well had broken, and any oil had long since escaped.
"It doesn't impact the risk as we see it as regards to our structures, so it does not change the risk-reward balance for our structures at all," Mr Potter told Tribune Business of Repsol's initial disappointment. Effectively, from the Bahamas Petroleum Company's viewpoint, the developments off Cuba have no effect on its prospects, neither increasing the risks nor the likelihood of success.
The Repsol well is the first of five-six expected to be drilled off the Cuban coast this year, and the Bahamas Petroleum Company produced two analyst reports expressing similar sentiments to its own.
One said: "Although not directly comparable to BPC's exploration prospects offshore the Bahamas, the failure of Repsol's first well offshore Cuba (announced at the weekend) may have a slightly negative knock-on impact on BPC......
"The well was targeting a shallow Cretaceous horizon, whereas BPC is looking at deeper Cretaceous and Jurassic targets, hence the lack of direct read across. With the Bahamian elections now out the way, BPC can concentrate on farming out its acreage to a partner willing to spud a first well on one of BPC's huge identified structures early next year. A high risk story but with enormous potential."
Another added of Repsol: "This is believed to have been a much shallower prospect targeting the late Cretaceous reef systems, and is not considered to have read through to Bahamas Petroleum's deeper carbonate exploration targets.
"Market reaction: While we expect a negative reaction on the back of this news, the prospect drilled was geologically much shallower than the more prospective Albian, Aptian and Jurassic reservoirs to be targeted by BPC, and is likely to have increased the risk of seal not being present."
Meanwhile, the Bahamas Petroleum Company's annual report for 2011 disclosed that the five licences it received from the Government on April 26, 2007, were for a 12-year period.
Jobeth Coleby, its Bahamian in-house attorney, was quoted as saying: "Bahamas Petroleum Company was awarded five licences in 26 April 2007 for a 12-year term, though the currency of the licence has to be renewed every three years - consistent with the existing Act and Regulations."
The first three-year licence period was extended for two years until April 26, 2012, after the company was asked by the Government to hold-off on seismic testing until the Bahamian/Cuban maritime borders were worked out.
Explaining what was meant by "the currency of the licence" being renewed every three years, Mr Potter told Tribune Business: "The regulations demand that we're in compliance with the Petroleum Act, and that we've discharged all our obligations. As long as we have discharged those obligations, then the licence remains current."
The Bahamas Petroleum Company is thus hoping that the former government's decision, in its 'dying days', to defer the April 26, 2012, renewal is nothing more than a political storm in the proverbial tea cup. It is now likely to be reaching out to the new government, in the hope progress can be made on implementing the required regulatory regime to supervise the oil exploration regime in the Bahamas.
Certainly, the Bahamas Petroleum Company believes it has fulfilled all its obligations. Ms Coleby said in the annual report: "The company is in compliance, given the aggregate expenditure to date of some $50 million exceeds by over 60 times the obligations placed upon it by the licence agreement.
"There is no room for ambiguity in that compliance shall lead to renewal, and each year (to the year of this report) the company has received from the Ministry of Environment a letter attesting to compliance."
Ms Coleby also revealed that the Bahamas Petroleum Company "never received any documentation, official or otherwise" from the former FNM administration on how the moratorium it imposed in August 2010 affected its existing five Bahamian licences.
Mr Potter, meanwhile, confirmed that the Bahamas Petroleum Company had "let a contract to design the well" that it must spud by April 26, 2013, as per its licence obligations.
"It's not as if we're going to be ready to drill the week after next," he added. "This allows us to do a study, identify logistics, designs and long lead items we need to consider. It just keeps the wheel moving."
This was confirmed by the company's annual reports, which said: "Bahamas Petroleum Company have engaged a drilling service company to act as project manager to plan and, as applicable, execute the drilling of our first exploration well."
And Mr Potter also confirmed that negotiations with potential joint venture partners for the exploratory well had continued through the 2012 Bahamian general election cycle.
"We had a number of potential partners through our data room all through the election period," he added.
The Bahamas Petroleum Company's annual report said: "We continue to host potential partners in our data room. Most recently we have begun allowing parties who have demonstrated serious interest the opportunity to review aspects of the 3D.
"There continues to be high interest, and we are committed to securing a partner prior to drilling. Negotiations have taken longer than initially anticipated, possibly due to potential partners waiting to see election results or the results of drilling currently underway in Cuba.
"As we move forward with these negotiations we remain mindful of getting appropriate value for our shareholders and for staying on track to meet our licence requirements regarding drilling."