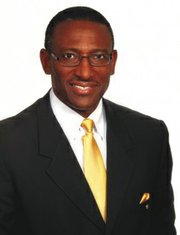 By NATARIO McKENZIE
Tribune Business Reporter
nmckenzie@tribunemedia.net
The Minister of Agriculture yesterday plerdged that the Government was prepared to look at increasing duty rates on imported chicken, in an effort to provide more of a level playing field for Bahamian producers.
The Government reduced the tariff on chicken imports by 10 percentage points in 2011, while in 2010 it removed a stipulation requiring chicken importers to have a permit.
But V Alfred Gray told Tribune Business: "We are prepared to look at increasing the tariff on imported chicken or to eliminate it altogether - that is, the importation of chicken - as long as I am satisfied that there is sufficient in the local market to supply the Bahamas needs for a reasonable period of time.
"Having regard to that, because I don't know all the facts surrounding their inventory, I would certainly have to check that out to see how much time such an increase in tariff, or the elimination of chicken imports, could be for. By that I mean we may have to stop the importation of chicken for three months just so that they can sell their inventory, as long as the price is reasonable and they have a good quantity which would suffice the Bahamian market. I am prepared to do it."
Mr Gray added: "The Bahamas government's first obligation is to Bahamians. If Bahamians are in business and we want to help and protect them, it is in my view a very important element of the Government's consideration that Bahamians are not put out of business by our policies.
"The extent to which we are able to help them, without doing violence to the other aspects of our economy, we are prepared to do it. We cannot stop people altogether from buying chicken from abroad, but one option is to increase the tariff so that it discourages them from bringing it in. One of the things that we have to be careful about is the consideration which may lead to non-importation, because we want people to feel free to bring their chickens in if they want to do that. We have got to balance it and we are prepared to do that."
In a recent interview with Tribune Business, executives at Abaco Big Bird Chicken Farm, a family-owned and operated business since 1995, said the company may go out of business in two-three months, its saled having dropped 60 per cent since the Government eliminated the permit regime for chicken imports.
Lance Pinder, operations manager of Abaco Big Bird Chicken Farm, said that having to compete with cheaper imports from the US and Brazil, combined with the rising costs of chicken feed and electricity, have all led to a downturn in business.